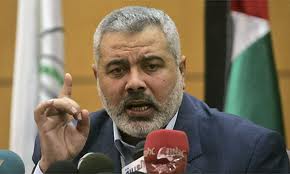 By Al-Manar TV
Hamas Prime Minister Ismail Haniyeh on Thursday thanked Iran for the support for Gaza people in his statement after victory over the Israeli occupying regime in eight-day war.
"We thank all governments including the Islamic Republic of Iran which supported Gaza people vis-a-vis Israeli brutal bombardments," Haniyeh said.
Haniyeh also thanked the Arab League and Egyptian President Mohamed Mursi for supporting the Palestinian cause.
Hamas prime minister called Hamas position as stronger as a result of the Islamic Awakening movement.
The Zionist entity and Hamas agreed to a ceasefire on Wednesday after eight days of intensive war over the Gaza Strip.
The Iran Project is not responsible for the content of quoted articles.