By Bloomberg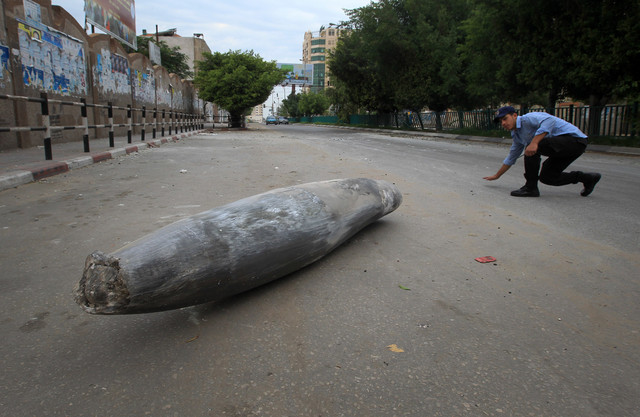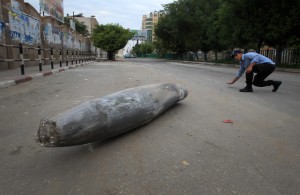 While Israel's battle with Hamas in Gaza is showcasing its ability to defend itself and punish attackers, it also is delivering a warning to Iran, the Islamist group's key supporter and a nation Israel regards as its existential enemy.
Hamas, considered a terrorist group by the U.S., Israel and the European Union, is funded and armed largely by Iran, which Israeli leaders say would threaten their nation's survival if it obtained nuclear weapons.
Israeli President Shimon Peres yesterday charged that Iran is encouraging Hamas to attack Israel. "They are trying again to encourage the Hamas to continue the shooting, the bombing; they are trying to send them arms," Peres told CNN. "They are out of their mind."
Israel is fighting a "war within a war," said David Wurmser, a former Middle East adviser to then-vice president Dick Cheney and founder of the Washington-based Delphi Global Analysis Group. Israeli officials, he said, are simultaneously tackling Hamas rocket fire, demonstrating the effectiveness of the new "Iron Dome" missile defense system and degrading the Islamist group's ability to retaliate for an attack on Iranian nuclear facilities.
'Geo-Strategic Move'
"I don't believe this is an indication that Israel is about to strike Iran, but it's certainly part of the preparation," Wurmser said in a telephone interview. "They shut down an extension of Iran that can strike Israel, and that's a major geo-strategic move."
"The Israelis are definitely sending a message to Iran in the war in Gaza," said Geneive Abdo, an Iran specialist and the liaison for the United Nations Alliance of Civilizations, which seeks to improve relations between Western and Islamic societies. Abdo is a fellow at the Stimson Center, a nonprofit, nonpartisan international policy center in Washington.
Since the start of the operation, the Israeli Defense Forces have targeted more than 1,450 sites in the Gaza Strip, the IDF has reported. The targets have included underground rocket launchers, command and control centers, tunnels used to transport missile components and ammunition from Egypt to Gaza, and storage facilities, according to the IDF website.
'Simple Elimination'
"These strikes caused severe damage to terror groups' arsenal and drastically reduced the threat posed to Israeli civilians, by simple elimination," the site said.
Israel also has demonstrated the effectiveness of its Iron Dome missile defense system. Militants have fired more than 1,200 rockets into Israel since the operation began Nov. 14, said Aaron Sagui, the spokesman for the Israeli Embassy in Washington. As of 10:20 pm local time yesterday, the Iron Dome system had intercepted 389 missiles, the IDF website said.
The message Israel is sending, said analysts such as Michael Singh, a former National Security Council senior director for Middle Eastern affairs under former president George W. Bush, is about demonstrating its military might to the region.
"For Israel, firmly establishing deterrence" also "sends a message to all potential foes, including Iran," Singh said in a telephone interview.
While limiting Iran's retaliatory reach by striking Hamas missile facilities in Gaza isn't the main goal of the Israeli operation, said retired IDF Major General Dan Harel, a former deputy chief of the general staff, "It's a byproduct."
Iran Investment
Harel called Gaza "an investment for Iran" in the range of "multi-millions of dollars."
Gazans also travel to Iran from their 365.2 square kilometer (141-square-mile) strip of land bordering Egypt, Israel and the Mediterranean Sea for training on weapons manufacturing and development, he said.
As early as the second day of the operation, Israeli Ambassador to the U.S. Michael Oren told reporters that Israeli officials were "fairly confident that we have neutralized virtually all of the long-range capability," of Hamas's weapons. The second phase of the mission would target medium- range rockets, Oren said at the time.
The Iranian-made long-range Fajr 5 rockets would have put the population of Tel Aviv within reach, Oren said. Neutralizing those weapons reduced the number of those vulnerable in Israel from 3.5 million people, including in the Tel Aviv area, to a million who live closer to Gaza.
Limited Inventory
Destroying Hamas missiles now also could free more of Israel's limited inventory of planes during any future potential attack on Iran, said Reuel Marc Gerecht, a former Iranian targets officer for the CIA and now a fellow at the Foundation for Defense of Democracies inWashington.
"The great limitation on Israel with Iran is they don't have that many planes in the first place," he said in an interview. "They'd have to pull those back if they were under attack from Hezbollah to knock out Hezbollah batteries. If they also had to worry about Hamas shooting, they'd also have to divert planes to the Gaza Strip."
Michael Eisenstadt, who heads the military and security studies program at the Washington Institute for Near East Policy, said Israel has about 100 F16 jets and 25 F15s capable of dropping large quantities of bombs on Iran.
While degrading Hamas's military leadership and arsenal creates heightened risks for Iran, it also provides the Islamic Republic with some advantage, said Aram Nerguizian, a fellow at the Center for Strategic and International Studies, a Washington policy group. The fighting in Gaza shifts attention away from the conflict in Syria, Iran's closest regional ally, and more crucially from its nuclear program, Nerguizian said.
Shooting War
"For the time being, a shooting war between the Palestinians and Israel is what dominates Israeli security politics today," Nerguizian said. "That doesn't mean that the focus will not return."
The ties between Persian Shiite Iran and Sunni Arab Hamas have been strained in recent months, though. Some factions within the Islamist group that's ruled Gaza for five years have begun distancing themselves from Iran and its closest Arab ally, Syria. They've criticized Syrian President Bashar al-Assad's regime for its crackdown on its opponents and announced their support for Syrian rebels — some of whom are fellow Sunni extremists.
These Hamas members are turning to Iran's Sunni rivals, including Qatar and Egypt, which are inserting themselves into the Gaza conflict, visiting the territory and working to broker a cease-fire.
Upsetting Iran
Singh, now with the Washington Institute for Near East Policy, said in an interview that the Qatari emir's recent visit to Gaza would have upset Iran. Qatar has been a major source of funding and support for Syria's rebels.
Indeed, Michael Hanna, a fellow at the Century Foundation in New York, said the assault on Gaza is just the latest factor contributing to Iran's weakened status. He lists the continuing international sanctions that have crippled its economy, the Assad regime's steady loss of control in Syria and now Hamas's courtship of Sunni sponsors.
"They are a diminished player with respect to Hamas and a diminished player in the Arab world because of the Arab Spring," Hanna said in a telephone interview. "They have much less ability to project power."
The Iran Project is not responsible for the content of quoted articles.