By Haaretz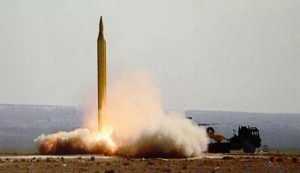 Palestinian terrorist groups in Gaza don't hide Iran's role in arming them with missiles, and will clearly try to smuggle more into Gaza once a cease-fire is reached.
As Operation Pillar of Defense enters its eight day, there is concern in Israel that Iran will try to re-arm terrorist groups in Gaza – particularly with medium-range rockets – once the current hostilities end. The Israeli intelligence community, with the assistance of Western intelligence agencies, has been investing great effort in keeping tabs on Iran's smuggling network in order to thwart it.
In the two years leading up to Israel's current Gaza offensive, the Iranians smuggled Fajr-5 rockets with a firing range of up to 75 kilometers into the Gaza Strip by way of Sudan, Egypt and Gaza's smuggling tunnels. At the same time, Hamas and Islamic Jihad manufactured 200mm diameter rockets – whose range is close to 80 kilometers – in the Strip, using know-how provided by Iran.
During the first phase of Pillar of Defense, immediately following the assassination of Ahmed Jabari on November 14, the Israel Air Force destroyed most of the arsenal of Fajr rockets and some of the production lines and caches of other rockets that belong to Gaza's militant groups. Until now, roughly 10 medium-range rockets have been fired toward the Tel Aviv area and the Jerusalem region. Most of these have been the improvised 200mm rockets produced locally in Gaza. Israeli intelligence believes that only a small number of these medium-range rockets remain.
Militant organizations, like the Iranians, see the medium-range rockets as a key means toward deterring Israeli attacks. Consequently, they attribute great importance to renewing the weapons smuggling activity into Gaza, with the goal of broadening the rocket arsenal at these groups' disposal. Senior Iranian officials have declared several times of late that they will aid efforts to improve the capabilities of Palestinian terror groups in Gaza.
"It's no secret that the military support provided to the Palestinian resistance from A to B, from bullets to rockets, comes from Iran," a spokesman for Islamic Jihad, Daoud Shihab, said this week in an interview with the Lebanese TV channel al-Mayadeen.
In Israel, it is still difficult to assess what role Iran played in the recent escalation of Palestinian terrorist group activities in Gaza. Most Israeli intelligence officials believe that the escalation erupted due to local considerations of the Gaza groups, but it appears that the tension in Israel's south also serves Iranian interests – because Israelis have been wounded in the exchange of fire and because the world's attention has shifted from the progress Iran is making with its nuclear program to Gaza.
The Iran Project is not responsible for the content of quoted articles.