By Jerusalem Post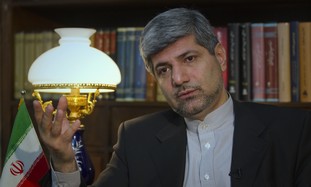 Iran FM spokesman Mehmanparast refuses to confirm or deny supplying Hamas, Islamic Jihad with weapons.
Iran's Foreign Ministry spokesman on Tuesday refused to confirm or deny whether Iran had supplied Hamas and Palestinian Islamic Jihad with artillery rockets.
Asked whether Iran had supplied its Fajr-5 rockets to Hamas, Rahmin Mehmanparast replied that it was "the duty of all nations, especially Islamic countries to take action to defend the oppressed people of Palestine, at a time when the Zionist regime is committing a crime," according to reports in Iran's state media.
Asked where Hamas's Fajr-5 missiles were produced, Mehmanparast said: "The question of which country produces missiles should be asked of the military authorities [of that country]," according to Iran's ISNA news agency.
"The Palestinian people must be aware of their rights and the duty of countries to support them," Mehmanparast added.
When asked how the rockets had reached Gaza, Mehmanparast said that question should be asked to Israeli intelligence officials.
Iran had previously appeared to try to distance itself from comments by Hassan Nasrallah, the secretary general of Iran's Lebanese proxy, Hezbollah, who praised Hamas in a speech at the weekend for using Iranian- made Fajr-5 rockets.
In response to Nasrallah's remarks, senior Iranian lawmaker Alaeddin Boroujerdi denied Iran was sending missiles to Hamas.
However, on Monday the leader of Palestinian Islamic Jihad said that Iran has supplied Gaza "resistance" groups with weapons and missiles.
Ziyad Nakhleh told Iran's state-owned Al-Alam Arabic news channel on Monday that the terror group had Fajr-3 and Fajr-5 rockets.
"These missiles have restored the Palestinian people their dignity," Al-Alam quoted Nakhleh as saying.
The Iran Project is not responsible for the content of quoted articles.