By The Telegraph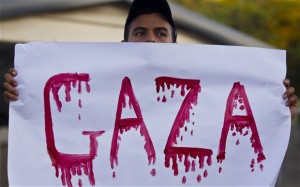 Israel's President Shimon Peres has accused Iran of encouraging the Palestinians to continue rocket attacks on Israel, saying "they are out of their mind."
Mr Peres also praised Egypt's President Mohamed Morsi for the constructive role he has played in the intensifying crisis during an interview with CNN.
"The unpleasant one is the Iranians. They are trying again to encourage the Hamas to continue the shooting, the bombing, they are trying to send them arms," Mr Peres said in the interview.
"They are out of their mind," he said.
Mr Peres said Israel had no choice but to wage its offensive against Hamas in Gaza despite the rising civilian casualties, citing what he said were 1,200 missiles fired from the territory in the past six days.
"In one minute, if they stop shooting, there won't be any casualties," he said.
In singling out Iran, Mr Peres said, "We are not going to make a war with Iran. But we are trying to prevent the shipping of long range missiles which Iran is sending to Hamas."
"But Iran is a problem, world problem, not only from the point of view of building a nuclear danger, but also from the point of being a centre of world terror.
"They finance, they train, they send arms, they urge, no responsibility, no moral consideration," Mr Peres said.
Asked whether a ground war in Gaza was inevitable, Mr Peres said he was hopeful that there would be a ceasefire.
"The negotiations are still being continued. It's difficult for all parties, but it's not over and the best choice for all of us is to stop shooting," he said.
The Iran Project is not responsible for the content of quoted articles.