By SHANA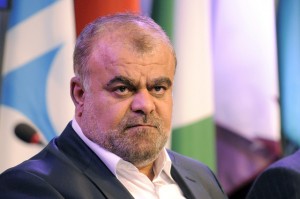 ASSALUYEH Nov 19 (Shana): During the first months of imposing sanctions we had to tolerate heavy pressures but today the situation has changed; our situation is desirable in comparison to past two months but there is no doubt that it well improve more and more.
Iranian minister of petroleum, Rostam Qasemi made the remarks today in Assaluyeh, onshore installations of South Pars gas field, during a visit by members of Commission of Industries and Mines of the parliament, adding the enemy intends to hinder economic development of the country.
'The enemy deployed sanctions against oil sector and Central Bank of Iran as the last resort, the official said adding enemies of the country are trying to disrupt development of oil industry and chain of production, but petroleum ministry is involved in devising new plans for each sector.
'Americans bought shares of some of those companies that manufacture oil industry equipment in order to deny our access to needed equipment but despite these tricks, Iranian oil industry has succeeded to provide the items through all-out efforts', Qasemi noted.
Referring to importance of timing in South Pars gas field projects, Qasemi expressing hope all the project of the field to be completed through comprehensive efforts.
Hinting to huge potentials of the petroleum ministry to cope with sanctions, Qasemi said despite all obstacles by enemies in shipment of Iran's oil, today we have ships carrying 2 million barrels of oil per day to different destinations across the globe.
Elsewhere in his remarks, Qasemi noted that fuel smuggling, that had been in decline, once again is on the rise due to a gap between prices at home and in neighboring countries, 'a situation that will be brought under control'.
'Since departure of foreign oil companies, domestic companies are developing South Pars gas field projects excluding one phase, the official said adding 68 billion dollars have been invested in South Pars gas field, a field that each of its phases will make 6 billion dollars revenue each year implying each of them will be able to return investments in a one year period, the official concluded.
The Iran Project is not responsible for the content of quoted articles.