By Trend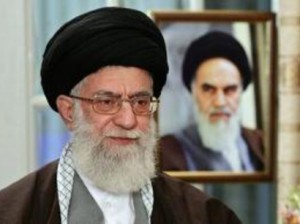 Iran's Supreme Leader Ayatollah Ali Khamenei said that if the Syrian opposition is willing to put down the weapons, then the Syrian government can hear out its position, Fars reported.
Ayatollah Khamenei made the remarks during the meeting with officials of Iran's Hajj and Pilgrimage Organization.
"The reality in today's Syria is that the Front of Arrogance plans to disrupt the chain of resistance against Israel in the region," Ayatollah Khamenei said.
The Leader added that the solution to prevent the crisis in Syria from developing further, is to stop the smuggling of weapons from abroad into the country.
"If weapons from abroad are smuggled into a country, naturally it will be forced to deal with that," Ayatollah Khamenei noted.
Today Iran held the second day of national dialogue on Syria, where 40 active Syrian political parties and a total of 130 personalities from Syria attended the conference.
Officials from other countries have also taken part in the meeting.
The Iran Project is not responsible for the content of quoted articles.