By Trend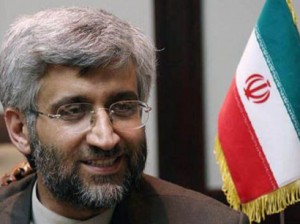 Secretary of Iran's Supreme National Security Council (SNSC) Saeed Jalili stressed Tehran's strategic policy of expanding and reinvigorating ties with independent and non-aligned countries, FNA reported.
Speaking in a meeting with Ghanaian Presidential Advisor for Strategic and Security Affairs Tsatsu Chikata in Tehran on Sunday, Jalili reiterated "the need for security cooperation among independent states".
Jalili, who is also the Iranian Supreme Leader's representative at the SNSC, said expansion of relations with independent and NAM states is "the Islamic Republic of Iran's strategic policy".
He further blasted the western states' double-standard attitude towards such issues as human rights, terrorism and civilian nuclear activities.
Ghanaian Presidential Advisor Tsatsu Chikata, for his part, called for the enhancement of his country's relations with Iran, including bilateral security ties and cooperation.
"We hope that Non-Aligned Movement (NAM) will play a more active and effective role in international relations during Iran's presidency," Chikata added.
Tehran hosted the 16th NAM summit from August 26 to 31, including two days of talks among deputy foreign ministers followed by a two-day meeting of the NAM foreign ministers and eventually two days of talks among NAM leaders.
During the heads-of-state summit meeting on August 30-31, Iran received the three-year leadership of the Non-Aligned bloc, a platform for anti-Western sentiments and grievances over big-power domination.
NAM is a group of states considering themselves not aligned formally with or against any major power bloc. The movement has 120 members and 17 observer countries.
The Iran Project is not responsible for the content of quoted articles.