By Haaretz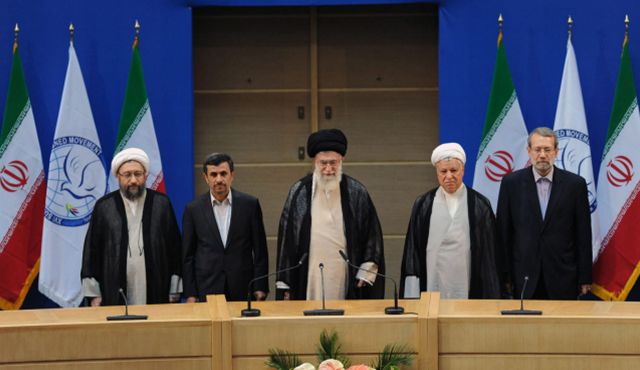 In a new report, the Iranian Intelligence Ministry outlines different ways 'to prevent war,' including diplomacy.
"Iran will negotiate with the United States at the lowest level of hell if that suits our interest," Mohammad-Javad Larijani, a senior adviser to Iranian Supreme Leader Ali Khamenei, said last week. "But holding such talks under pressure is unacceptable to Iran. Should they be held, it will be part of a comprehensive strategy, and only Khamenei has the authority to decide on such a matter," said Larijani, also head of the country's human rights council.
According to Larijani's brother, Sadeq Larijani, "Relations with the United States are not simple, and following all the American pressure and crimes committed by the American government against the Iranian people, such relations cannot be built in a night."
Notice that Sadeq Larijani, head of Iran's judicial system, didn't conclude that such relations are inconceivable or impossible. These are new types of statements by Iran's leaders, much clearer, following The New York Times report last month on the prospect of direct dialogue with the United States.
The three Larijani brothers hold key positions. (The third, Ali, is speaker of parliament and is expected to run in the June presidential election. ) They are extremely close to Khamenei and are constant critics of President Mahmoud Ahmadinejad.
At the beginning of this month, for example, Sadeq Larijani stopped Ahmadinejad from visiting the notorious Evin prison. Ahmadinejad wanted to visit his media adviser, Ali Akbar Javinfekr, who has been behind bars since September for publishing an article that "harmed the public." Ahmadinejad accused Larijani of violating the country's constitution and undermining his authority.
"Under the constitution I do not need authorization from the legal system to make a prison visit," Ahmadinejad wrote to Larijani. Khamenei supported Larijani's position; he ordered state officials to avoid holding disputes in public. He was mainly talking about Ahmadinejad.
Statements by the Larijani brothers on talks with the United States are not casual or arbitrary. The timing, shortly after the U.S. elections, shows that these comments are aimed at President Barack Obama.
Gaps between U.S. and Israel
Even more than these statements, an unusual report by Iran's Intelligence Ministry last week is interesting. The report, "The Reasons for and Obstacles to an Attack on Iran by the Zionist Regime," was published on Iranian websites. It details relations between the United States and Israel, shows gaps in the two countries' positions, and explains that in contrast to the perception in Israel, the U.S. government doesn't view the Iranian nuclear program as a threat at its current stage.
Incidentally, the document partly relies on Haaretz articles; it specifically mentions this. In any case, the report warns that "ignoring the possibility of the use of force would be an inexcusable sin."
The document concludes that Iran will "to a great extent" be able to withstand an attack (in past statements, Iranian officials said their country's ability to withstand an attack was absolute ). The report recommends that everyone in the country unite "to reduce serious internal disagreements in Iran and make the government's operations more effective."
Most importantly, the report notes that "there are a few options to prevent war. One is to adopt a political-diplomatic policy and maximize the potential of international organizations. This is a necessary course of action, and of course it is less costly than war."
Notice that the report refers to a "Zionist" attack on Iran, not an American or combined attack. It also discusses the tough sanctions regime against Iran. But it's not the sanctions but rather the threat of war that makes the authors consider the diplomatic track. That's the Intelligence Ministry's first clear recommendation on this issue to date.
Putting Ahmadinejad in his place
True, the Intelligence Ministry doesn't set policy, and its role is limited to evaluations and recommendations of possible courses of action. But remember that Intelligence Minister Heydar Moslehi, who formally is subordinate to Ahmadinejad, is actually Ayatollah Khamenei's man.
Last year, Ahmadinejad tried to fire Moslehi in a bid to erode Ayatollah Khamenei's power, but Ayatollah Khamenei forced the president to keep the intelligence minister at his post. This set off some grumbling for a few weeks, a period when Ahmadinejad was absent from cabinet meetings. No less important than the report per se is the support it has received from Ayatollah Khamenei, who has posted it on his official site and has shown it to decision-makers in the West.
In the past, Iran also conducted PR via its media outlets. Maybe the report has been published now as part of agreements reached by Iranians who, according to reports in the West and Iran, met recently with senior U.S. officials.
"Whether or not this is an agreed-on course, it's an interesting move that's likely to create a new atmosphere, not only in negotiations on the Iranian nuclear program but also in improved relations between Iran and the United States," a European diplomat in Israel says. "The big question mark is how much the two sides will be willing to carry out more confidence-building measures."
Iran is now starting to prepare for its presidential election, its departure from the Ahmadinejad era. When a new Iranian president is elected this summer, the time allotted by Prime Minister Benjamin Netanyahu for diplomatic efforts will expire.
It will be interesting to see how much Iran adopts its intelligence report. Will it unveil a new diplomatic strategy, one based not on borrowing time but on a deal to suspend uranium enrichment in exchange for a lifting of sanctions?
The Intelligence Ministry report doesn't clarify its reference to "exploiting the potential at international forums" in pursuit of a diplomatic solution, but clearly the authors realize that Iran will have to make a significant concession so the country doesn't have to pay the steep price of war.
The Iran Project is not responsible for the content of quoted articles.