By Trend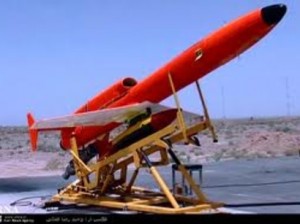 During a war game, Iran launched Shalamcheh missile and targeted Karrar unmanned aerial vehicle (UAV), Fars News Agency reported on Wednesday.
According to the report, Shalamcheh has installed Mersald defense system and targeted at home made Karrar drone successfully.
Surface-to-air Shalamcheh is a mid-range missile with three Mach speed (three times more than sound speed).
Shalamcheh is reportedly equipped with the latest technology and has a high capability in tracing and intercepting targets and in defusing jamming and electronic warfare.
Karrar, Iran's first indigenous long-range drone unveiled in August 2010, is capable of carrying a military payload of rockets to carry out bombing missions against ground targets, flying long distances at a very high speed, and gathering information.
The country's indigenous unmanned aerial vehicle, Shahed 129, unveiled in September 2012, can carry out combat and reconnaissance missions with its 24-hour nonstop flight capability.
The Iran Project is not responsible for the content of quoted articles.