By Business Recorder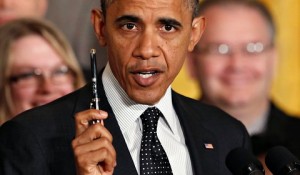 US President Barack Obama has barely won re-election and is already making waves with his first trip abroad after the crucial vote, as he spends four days in South-East Asia from Saturday through November 20. The itinerary explains more about the new foreign policy focus than a think-tank full of establishment experts ever could: Europe is no longer Washington's top priority.
The United States sees itself increasingly as a Pacific power. The United States' most pressing foreign policy challenges are Iran, Israel and Syria, and their challenges to peace. Obama is travelling to three relatively small countries – Myanmar, Cambodia and Thailand – which are in the orbit of China, whose military policies have long been giving Washington headaches.
The visit to the small tigers is a political gesture in Beijing's direction to show that the US has a presence. China's claim to the natural resources in the South China Sea has caused Washington even more concern. "The risk of a conflict in the South China Sea is considerable," says political scientist Bonnie Glaser.
The expert on Asia notes that Beijing's military policy could even put US forces at risk in the event of a conflict in the region. For now, however, Obama's most urgent foreign policy problem is Iran. Fears are growing that Israel may take military action against Iran's nuclear programme, perhaps as soon as early 2013. Obama is trying to deter Israeli Prime Minister Benjamin Netanyahu from ordering a use of force, but relations appear icy between the two men.
US media reports suggest the Pentagon is already planning for scenarios that might see the United States dragged into the conflict. Only the US has weapons that could break through Iran's hardened nuclear sites. "I suspect we'll see a new push for some sort of diplomatic deal with Iran," says political scientist Stephen Walt of the Council on Foreign Relations, a Washington-based think-tank.
He suggests that the US will "gradually adjust itself to a nuclear-capable Iran" that does not actually have nuclear arms. The United States would have to put up with Tehran holding large quantities of enriched uranium, while the regime refrains from assembling nuclear bombs or missiles to carry them to Israel.
So far, the official line in Washington has been to force Iran to give up its nuclear programme through increasingly tough sanctions. However, a Western diplomat in Washington recently said that "a satisfactory deal could not rely on Iran unilaterally backing off." Direct talks between the United States and Iran are regarded as likely in the near future, according to The New York Times.
The second smouldering problem for Obama is Syria. So far, no military role has even been considered by the White House. It is far too dangerous, and intervention in Syria would be far more complicated than the US-led no-fly zone that helped bring down the Libyan dictatorship in 2011, the US military says. Obama ended the war in Iraq and he wants to pull out of Afghanistan: a new military quagmire would be a nightmare. But pressure may mount for the US to do something as the death toll continues to rise into the scores of thousands.
The Iran Project is not responsible for the content of quoted articles