By The Telegraph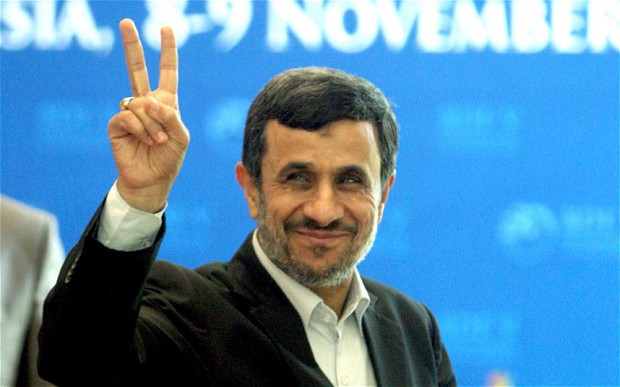 The damage wrought by sanctions on Iran's economy became clear today when oil exports were shown to have fallen by 43 per cent since last year, costing about $100 million (£63 million) every day in lost revenue.
The European Union imposed an embargo on Iranian oil on July 1 as the Western powers sought to compel Tehran to negotiate over its nuclear ambitions. In addition, the US and its allies have targeted Iran for a range of financial sanctions, designed to make it harder for the country to insure its tankers or receive payment for oil sales.
Mounting evidence suggests that these measures are helping to cripple the Iranian economy. The International Energy Agency released its monthly oil market report showing that Iranian exports averaged 1.3 million barrels per day in October, compared with the average of 2.3 million per day last year.
That fall of represents a daily loss of revenue of $109 million at current market prices. In reality, the actual loss could be greater because Iran's remaining exports are happening at a discount as Tehran struggles to keep its buyers.
On a low estimate, Iran's losses are probably running over $3 billion per month – or $33 billion so far this year. That represents almost 30 per cent of the Iranian government's total budget of $113 billion in 2012/13.
"I'd be very worried if I was an Iranian minister because there's no obvious place to go unless they do have a change of heart over the nuclear negotiations," said Prof Paul Stevens, senior research fellow on energy at Chatham House. "It is extraordinary. In fact, it's one of those situations where Denis Healey's rule on holes comes to mind: when you're in one, stop digging."
Financial sanctions and the Iranian government's own policy errors have probably inflicted more damage than the EU oil embargo, added Prof Stevens.
In addition to falling exports, Iran's total production of oil has also declined. As recently as June, the country was still the second biggest producer in Opec after Saudi Arabia, pumping three million barrels per day. By last month, its output was 2.7million barrels per day, placing Iran fourth in the Opec league, having been overtaken by Iraq and Kuwait.
This reflects the dilapidated state of Iran's oilfields, starved of outside investment. Even if sanctions were to be lifted, Prof Stevens predicted that any recovery would take time. "The Iranian fields are old and in decline. It would take a couple of years just to get back to the sort of level they were at a year ago," he said.
With its biggest source of revenue drying up, Iran's regime has no choice but to reduce spending. President Mahmoud Ahmadinejad is cutting the subsidies that hold down the price of basic essentials.
But this policy is deeply unpopular among ordinary Iranians, who regard cheap food and petrol as their birthright. On Tuesday, Iran's parliament delayed the next stage of subsidy reform until after March next year.
The Iran Project is not responsible for the content of quoted articles.