By France 24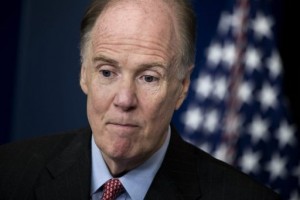 AFP – President Barack Obama's national security advisor met Monday with his Israeli counterpart at the White House for talks on the conflict in Syria and Iran's nuclear program, officials said.
The meeting was the first high-level dialogue between US and Israeli officials at the White House since Obama was re-elected on November 6, and at a time when tensions between Israel and both Syria and the Gaza Strip are rising.
"National Security Advisor Tom Donilon hosted a delegation of senior Israeli officials on November 12 for consultations on Iran, Syria, and a range of other regional security issues," Donilon's spokesman Tommy Vietor said.
The Israeli delegation was led by Yaakov Amidror, the head of Israel's National Security Council.
The meetings "were the latest in a series of regular, high-level consultations between the United States and Israel, consistent with our strong bilateral partnership, and part of our unshakeable commitment to Israel's security," Vietor said in a statement.
The Israeli army said Monday that it had fired tank shells into Syria, confirming "direct hits" on the source of a mortar round that struck the Israeli-occupied Golan Heights.
Also on Monday, the Jewish state was weighing up possible responses to a spike in violence over the border between southern Israel and the Gaza Strip, which is controlled by the Islamist Hamas movement.
On Sunday, Obama told Palestinian leader Mahmud Abbas he remained opposed to a Palestinian bid for non-state membership of the United Nations.
The US president spoke with Israeli Prime Minister Benjamin Netanyahu on Thursday, two days after his re-election.
Netanyahu, whose job will be on the line in early elections called for January, was taken to task by former premier Ehud Olmert, who said Netanyahu had backed Obama's Republican opponent Mitt Romney.
The Iran Project is not responsible for the content of quoted articles.