By Haaretz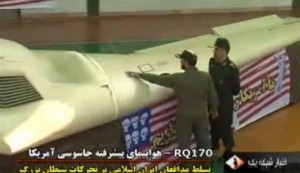 Iranian Revolutionary Guards commander tells the semi-official Mehr news agency that U.S. drone was gathering economic information on oil tankers, warns that Tehran will react if incident happens again.
Iran believes a U.S. drone targeted by its forces this month was gathering intelligence on oil tankers off its shores, an Iranian Revolutionary Guards commander told the semi-official Mehr news agency on Sunday.
Washington said Iranian warplanes opened fire on an unarmed U.S. drone over international waters on Nov. 1. Iran said it had repelled an aircraft violating its airspace.
The incident underlined the risk of escalation in tensions between the United States and Iran in an ongoing dispute over Tehran's nuclear program.
"The drone was flying near Kharg Island and our understanding is that … it was gathering economic information and intelligence on Kharg Island and oil tankers (in the area)," Amir Ali Hajizadeh, a brigadier general in the Islamic Revolutionary Guard Corps, was quoted as saying by Mehr.
Facilities on Kharg Island handle most of Iran's crude oil exports.
"The Islamic Republic of Iran has some red lines that the Americans should understand and respect. If this is repeated, we will definitely react," he added.
Washington, the EU and other bodies have imposed sanctions on Iran's oil trade to press it to halt nuclear research the West fears is aimed as developing the capability to build a nuclear bomb.
The United States and Israel have not ruled out military action against Iran, if diplomacy fails to resolve the row.
Iran denies the charge saying its nuclear work is purely for peaceful purposes.
The Iran Project is not responsible for the content of quoted articles.