By The Daily Star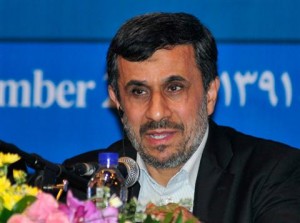 NUSA DUA, Indonesia: Iranian President Mahmoud Ahmadinejad said Thursday the age of nuclear deterrence was long gone and any country still stockpiling nuclear weapons was "mentally retarded."
He again denied Iran was trying to develop nuclear weapons, a day after the re-election victory of U.S. President Barack Obama, for whom Tehran's disputed nuclear program will be one of the thornier foreign policy issues of his second term.
"The period and era of using nuclear weapons is over … nuclear bombs are not anymore helpful and those who are stockpiling nuclear weapons, politically they are backward, and they are mentally retarded," Ahmadinejad told reporters at a forum to promote democracy on the Indonesian island of Bali.
"The Iranian nation is not seeking an atomic bomb, nor do they need to build an atomic bomb … For defending ourselves we do not need a nuclear weapon," Ahmadinejad said.
He added that representatives of any government or agency could visit the Islamic Republic to verify that it was not developing nuclear weapons.
He also said he was open to talks with Obama on forging peace around the world and called for the dismantling of all U.S. military bases abroad.
Obama's re-election may open an opportunity for new talks with Iran on agreeing constraints to its nuclear program, with sanctions piling economic pressure on its theocratic leaders.
Ahmadinejad also dismissed this week's U.S. election as a "battleground for the capitalists."
"Just take a look at the situation in Europe and the U.S.," Ahmadinejad said. An "election, which is one of the manifestations of the people's will, has become a battleground for the capitalists and an excuse for hasty spending."
The price tag for the 2012 U.S. presidential campaign was the highest ever, soaring beyond $2 billion.
Ahmadinejad said there were social problems and rights abuses "even in countries who claim to be the forerunners of democracy," without singling out any particular nation for criticism.
"Coming or going, winning or losing, is not important. The important thing is the policies and behaviors and these behaviors must change," Ahmadinejad said.
The Iran Project is not responsible for the content of quoted articles.