By The Washington Post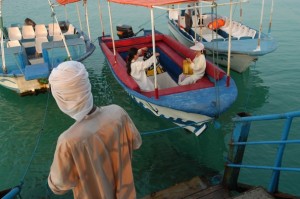 TEHRAN — International efforts to isolate Iran and force it to halt its uranium enrichment program are having an impact that is both unintended and, for Iranian officials, very much welcome: a jump in tourism.
Although most sectors of Iran's economy are struggling and oil revenue has steeply declined, foreign purchasing power is at an all-time high in Iran due to a plunge in the value of the Iranian currency, the rial. As a result, international travelers sensing a good deal are venturing to a country that for decades has been considered off-limits to all but the most intrepid tourists.
Although Iran's travel industry still has not reached what many here think could be its true potential, the trend in recent years has been one of growth exceeding global averages. From 2004 to 2010, the annual increase in tourists visiting foreign countries was 3.2 percent worldwide, according to the U.N. World Tourism Organization. Iran's figures over the same period show tourism here grew at a much faster clip — 12.7 percent.
The number of foreign tourists in Iran reached 3 million last year, contributing more than $2 billion to the national economy, according to Iranian data. Tour operators here say the number has risen this year. The tourists have injected badly needed fuel into a country that has been hobbled by runaway inflation, limited export markets and difficulty in obtaining raw materials.
"This is one of our only ways right now to earn hard currency," said tour guide Niloofar Ghatei from the southwestern city of Shiraz, a top tourist destination due to its climate, mausoleums and grapes. "If we can't sell our oil, at least we can bring more tourists here."
The vast majority of Iran's visitors come for religious reasons, making pilgrimages to Shiite holy sites. Only about 20,000 visitors last year came for nonreligious tourism, according to Iranian data. Of those, most came from China and Germany. More than 1,000 Americans visited Iran as tourists last year, according to the Iranian Tour Operators Association.
Due to its many restrictions, including required head coverings for women and a prohibition on alcohol, Iran is not an obvious choice for most Westerners. The country's allure lies in its seemingly countless ancient sites, its reputation for hospitality and, for some, its forbidden quality. Although the U.S. State Department has a long-standing warning against travel to Iran, there are no restrictions on Americans visiting Iran, as there are for Cuba or North Korea.
Still, a vacation to Iran might strike many as strange and even risky.
"Horror" was the reaction that Margarette Beckwith, a retired landscape architect from Ohio, said she received from friends and relatives when she told them that she planned to visit Iran.
"Some told me to cancel and not to go," she said. "Others were afraid for me. A very few were excited. Most of them knew that I was the adventurous type."
According to Beckwith, who visited Iran and Uzbekistan in October, Iran has no shortage of appeal for travelers. "The people stand out as the best part, but also the history, historic sites and, of course, the gardens," she said.
Iran's official stance on developing its tourist industry has always been murky. In the early years after the 1979 Islamic revolution, hard-line elements in the clerical establishment advocated destroying some of the country's most important pre-Islamic sites, including the ruins of Persepolis, a 2,500-year-old palace complex.
But in a sign that authorities understand the importance of tourism, they have made the process of visiting Iran easier than it had been.
Obtaining an Iranian visa was, for many years, the biggest problem in attracting visitors. Would-be travelers complained of an opaque visa application process that often drew no response from Iran's embassies. But the process has become simpler, with travel agencies handling most visa requests.
For American visitors, however, there are more rules. An official guide must accompany U.S. tourists throughout their journey in Iran, driving their costs up. And Iranians cannot host Americans in their homes. Still, the number of American visitors is increasing, and many have reported good experiences.
"Sometimes, it was embarrassing how much attention we got as Americans," said Audrey Scott, co-founder of the popular travel blog Uncornered Market, who visited Iran last year. "The Australians in our group felt a bit left out sometimes."
The Iran Project is not responsible for the content of quoted articles.