By Al Arabia
Israeli Prime Minister Benjamin Netanyahu says "I am, of course, ready to press the button if necessary," when asked if he is ready to order a strike against Iran.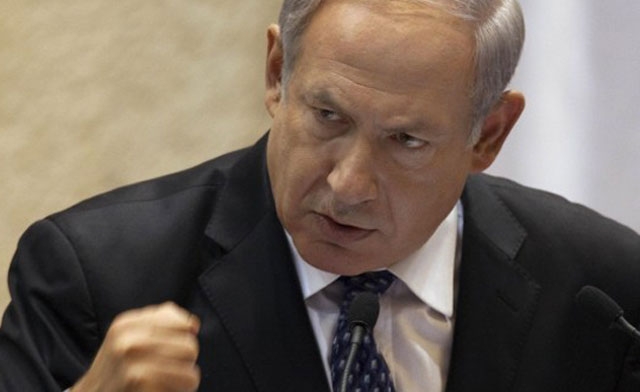 Israeli Prime Minister Benjamin Netanyahu said he was ready to order a strike on Iran's nuclear facilities "if necessary," in an interview aired by Channel Two television on Monday.
"I am, of course, ready to press the button if necessary," AFP quoted Netanyahu saying in the interview.
"It hope that that will not be the case. In the final reckoning, the responsibility rests with the prime minister and as long as I am prime minister, Iran will not have the atomic bomb," he said.
"If there's no other way, Israel is ready to act."
The Israeli premier's comments came on the eve of the U.S. presidential election and after repeated and unsuccessful pressure from his government on President Barack Obama's administration to set a clear "red line" for military action against Iran.
They also came after Channel Two reported on Sunday that Netanyahu and Defense Minister Ehud Barak had given orders in 2010 for the army to prepare an attack against Iranian nuclear facilities.
The orders were later rescinded in the face of the opposition of then chief of staff Lieutenant General Gabi Ashkenazi and then Mossad spy chief Meir Dagan, the television said.
Israel, like its U.S. ally, has consistently refused to rule out a resort to military action to prevent Iran developing the capability to build a nuclear weapon.
Iran denies any such ambition, insisting its nuclear program is for peaceful power generation and medical purposes only.
Israel, which has the Middle East's sole if undeclared nuclear arsenal, says it regards a nuclear Iran as a threat to its existence.
Strike against Iran imminent?
Meanwhile, according to a Reuters report, a slowdown in Iran's accumulation of its most sensitive nuclear material may have helped put off the threat of a new Middle East war for now, but Tehran's expanding uranium-enrichment capacity suggests any relief could be short-lived.
By dedicating a big part of its higher-enriched uranium to make civilian reactor fuel, Iran is removing it from a stockpile that could be used to make nuclear weapons if refined further and which would otherwise have grown faster.
But the material can be converted back to uranium gas as long as it has not been introduced into a working reactor.
Doing so "would take a bit of time, but not more than a month or two, using technology the Iranians have already demonstrated that they have mastered," a Western envoy told Reuters.
In addition, Iran's rapid installation of new centrifuges – the machines that enrich uranium by spinning at supersonic speed – in an underground site gives it the capability to rapidly increase output, analysts say.
Even so, another Vienna-based diplomat said the fact that Iran was making reactor fuel from some of its higher-grade uranium was positive in itself.
"Hopefully it could help us buy some time for diplomacy," the diplomat said.
The question of when and how quickly Iran might be able to assemble a nuclear weapon if it chose to do so is hotly debated in the West because it could influence any decision by Israel to launch military strikes against the Islamic Republic.
The Iran Project is not responsible for the content of quoted articles.