By AFP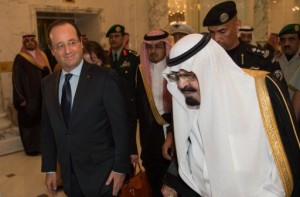 JEDDAH, Saudi Arabia — French President Francois Hollande discussed Iran and the situation in unrest-hit Syria with Saudi King Abdullah in the city of Jeddah on Sunday on his first visit to the oil-rich kingdom, a spokesman said.
"The president discussed with King Abdullah the peace process in the Middle East, the Iranian nuclear programme, the Syrian crisis, as well as cooperation between both countries," Romain Nadal told AFP after a two-hour meeting between the leaders.
Saudi Arabia's official news agency SPA also reported they discussed "developments on the Palestinian issue and the current situation in Syria" in addition to bilateral relations.
Hollande's stop in Jeddah, where he met the king for the first time since he took office in May, comes after a brief visit to Beirut during which he pledged to protect Lebanon against threats of destabilisation caused by the deadly conflict in neighbouring Syria.
"This visit to Saudi Arabia is primarily political," Hollande had told reporters aboard the aircraft taking him from Beirut to the Red Sea city.
"France plays an active role in the Middle East. We are the most active country on issues concerning Syria, Lebanon, and the peace process" between Israel and the Palestinians, he said.
Syria has been rocked by a deadly war that a rights group says has left more than 36,000 people dead since the uprising against President Bashar al-Assad's rule erupted in March 2011.
Paris and Riyadh have "very similar views" on the nearly 20-month conflict in Syria, French sources said, adding that the two leaders would also discuss energy issues including nuclear power.
The controversial nuclear programme of Sunni Muslim Saudi Arabia's arch rival across the Gulf, Shiite Iran, was on top of the agenda, according to members of Hollande's entourage.
Hollande this week said he would back more sanctions against the Islamic republic if there were no "concrete acts" from Tehran to prove it was not pursuing a nuclear arms drive.
Iran denies Israeli and Western suspicions that its nuclear programme is a cover for efforts to build an atomic bomb, but has been hit by several rounds of UN and Western sanctions because of its activities.
"Saudi Arabia is extremely worried about Iranian actions" in its atomic ambitions, the Elysee presidential palace had said Friday.
The two leaders were also focusing on energy and transport issues.
"Saudi Arabia has always acted responsibly" regarding oil prices, showing interest in developing "nuclear energy," said one French source. "We hope French companies would be more present in Saudi Arabia."
A French minister who requested anonymity said Hollande's visit is aimed at improving relations with the kingdom which chilled during the rule of France's former head of state, Nicolas Sarkozy.
"Things weren't working well. They weren't so good and now we are trying to have something else," he said.
Hollande's trips to Lebanon and Saudi Arabia on Sunday came as he headed for an Asia-Europe (ASEM) summit which starts in Laos on Monday against the backdrop of the eurozone economic crisis and lower growth forecast in Asia.
The two-day summit gathers all 27 EU member states and 21 from Asia, including China and India, growth engines which have both come under pressure as the eurozone debt crisis has undercut demand for their exports.
The Iran Project is not responsible for the content of quoted articles.