By The Guardian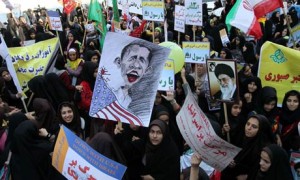 Revolutionary Guard commander offers gold to anyone who can find a more criminal regime – but says it is an impossible task
A commander of Iran's Revolutionary Guard has offered a pot of gold to anyone who can prove that the US is not "the most criminal regime on Earth", as the country marked the 33rd anniversary of the seizure of the US embassy in Tehran.
General Mohammad Reza Naqdi told a crowd of thousands outside the building that once housed the embassy that 10kg (22lb) of gold would be given to anyone who found a regime "more criminal than the United States".
But he said that would be impossible because the Guard had "already done the research and found Washington is the worst on earth".
Naqdi's speech was in keeping with the rhetoric used by Iran's leadership during the annual rallies marking the embassy seizure. He said Iran would only restore diplomatic ties with the US if Washington disbanded the CIA and removed its military bases from the region.
As he spoke, students chanted "Death to America" and "Death to Israel" and burned US and Israeli flags. Some brandished an effigy of Barack Obama and distributed pamphlets denouncing America. One banner called Obama a "loyal dog" of Israel, with a caricature showing the US president with a metal chain around his neck linked to an Israeli flag.
On 4 November 1979 militant Iranian students stormed the embassy to protest against America's refusal to hand over the toppled Iranian shah Mohammad Reza Pahlavi for trial. They held 52 Americans hostage for 444 days. Washington severed relations with Tehran after the embassy takeover and they have not been restored since.
By the Persian calendar the demonstration fell two days before the anniversary according to the western calendar.
Iran's relations with the west are at their lowest yet. Israel has threatened to strike Iran's nuclear facilities if Tehran continues uranium enrichment, a process that can be a pathway to nuclear arms. The west suspects Iran is using its civilian nuclear programme as a cover to develop atomic weapons; Tehran says its programme is peaceful and geared towards generating electricity and producing radioisotopes to treat cancer patients.
Iran has been hard hit by intensified US and European Union economic sanctions meant to curb the suspect nuclear programme. Ordinary Iranians have felt the bite of the sanctions and the Iranian rial has plummeted in value against the dollar, a slide that has accelerated over the past month.
The former embassy is now painted with anti-American murals and used as a training site for Guard troops.
The Iran Project is not responsible for the content of quoted articles.