By Ynet News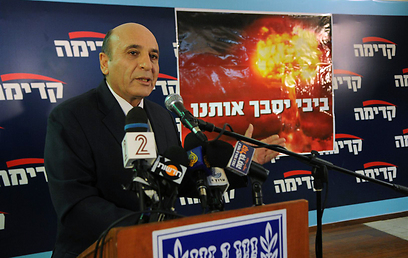 Party leader Mofaz tells reporters only thing PM cares about is 'bombing Iran'
"The prime minister had a 94-member coalition to resume the negotiations, prevent the establishment of a bi-national state, change the system of governance and introduce a social budget – but all he did was choose to focus on bombing Iran," Kadima Chairman Shaul Mofaz said Thursday during a press conference in which his party presented the main points of its election campaign.
Mofaz told reporters that "Netanyahu is busy with only one thing – bombing Iran. Nothing else interests him. Not the middle class, not young couples, not society – only his uncontrollable urge to bomb Iran."
During the press conference Mofaz revealed a campaign banner reading, "Bibi is entangling us."
The Kadima chief claimed officials in the Prime Minister's Office are aware of Netanyahu's "obsession" with the Iranian issue.
"Last week the irresponsible man joined forces with an unrestrained man who has a messianic outlook – (Foreign Minister Avigdor) Lieberman, who threatened to bomb the Aswan Dam."
Mofaz warned that the Netanyahu-Lieberman union "is dangerous for Israel. He (Netanyahu) addressed the UN and promised us a nuclear spring. (Former Mossad chief) Meir Dagan fears it (attack on Iran), Yuval Diskin (ex-Shin Bet chief) fears it, (former IDF Chief of Staff Gabi) Ashkenazi fears it; every citizen fears it. In the past Israel dealt with threats in a reasonable manner. But here there is no responsibility and no logic, only one obsession. In war there are no winners; the question is who loses more.
"We mustn't let Netanyahu realize his obsession. It is our duty to replace Netanyahu and Lieberman," said the Kadima leader.
Earlier, campaign strategist Moti Morel told party members that the campaign will focus on presenting Prime Minister Netanyahu as a "scoundrel" and Mofaz as "Mr. Security" who brought peace to Israel during Operation Defensive Shield, ending the second intifada and curbing the suicide-bombing phenomenon.
The Iran Project is not responsible for the content of quoted articles.