By The Guardian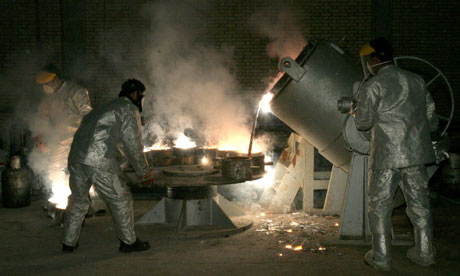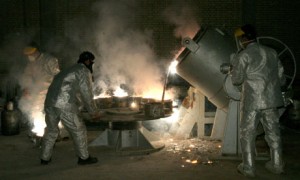 Officials have defined Netanyahu's red line by the size of Iran's 20%-enriched uranium stockpile
Since Binyamin Netanyahu picked up a fibre-tip pen and drew his famous red line on a cartoon bomb at the UN General Assembly in September, it has not been entirely clear what it meant in real terms. The Israeli prime minister said it represented the 90% milestone on Iran's road to making a nuclear weapon, and that point would be reached through production of 20%-enriched uranium. But it was not entirely clear how much would be considered too much by Israel.
Now we know. Israeli officials are saying that 240 kg of 20% uranium, enough to make one bomb (allowing for the excess that normally goes to make an initial warhead), is the benchmark past which Iran will supposedly not be allow to go. This figure was put to Netanyahu in an Israeli Channel 2 interview after his UN performance, and he "did not contest" the figure. These days Israeli officials are going further and volunteering it. It seems to have become orthodoxy.
According to the latest IAEA report, Iran had produced about 190kg of 20% (precisely speaking 19.75%) uranium as of August, but had converted 96kg into reactor fuel, which would harder to turn into weapons grade uranium, should the regime decide to go that route. So the Israeli thinking is that if Iran carried on at the same rate of 20% production it would reach 240 kg by spring, but if it carried on converting half into fuel, then it would take until summer. Hence the Bibi timeline for military action.
So the red line has become clearer, but it is unlikely it will be any more widely shared. The theoretical ability to make enough weapons grade uranium for a bomb fairly quickly, in the absence of evidence of current weaponisation work or of any clandestine effort to enrich weapons grade fuel, will probably not be seen in Washington as a casus belli. Which raises the question of what Netanyahu would do (assuming he comes out on top at the January election) if and when the 240 kg level is reached. With every step taken to define that red marker pen line, his is inking himself and Israel into a corner.
The Iran Project is not responsible for the content of quoted articles.