By Reuters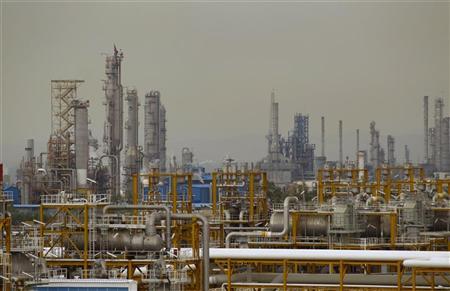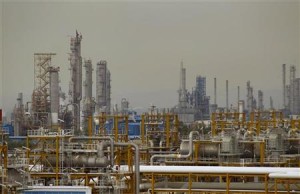 (Reuters) – EU sanctions on Iran's natural gas have unintentionally also brought its exports of liquefied petroleum gas to a near halt, industry sources say, starving Tehran of yet more dollar revenue and threatening to push European winter fuel bills yet higher.
LPG, which comprises propane and butane, comes mainly from oil rather than natural gas, but shippers and insurers are steering clear of Iranian supplies due to uncertainty over the scope of the new European Union sanctions.
"It's a grey area if natural gas includes LPG or not," said one LPG trader. "Not many want to take a risk on that."
Earlier this month the EU announced tighter restrictions on trade with Iran, adding to already comprehensive international sanctions aimed at forcing Tehran to halt its nuclear program.
These included a ban on importing and transporting Iranian gas, as well as financing gas sales. Western nations suspect Iran is trying to develop atomic weapons, something that Tehran denies, but the gas curbs had appeared symbolic as Iran exports none to the EU.
In reality, the measures announced by EU foreign policy chief Catherine Ashton are already strangling Iranian LPG exports to countries outside the bloc, notably South Korea.
Officially, the gas sanctions became binding on EU governments from October 16 but technically they do not apply to companies until detailed legislation is prepared and issued. An EU source said this could happen in November.
In the absence of hard and fast EU rules, Iran's LPG customers outside the EU are acting cautiously due to the uncertainty, with the result that shipments are drying up.
Previous U.S. and EU measures slashed Iran's crude oil exports, hitting its hard currency earnings and contributing to a plunge in the rial's value. The International Energy Agency estimated its crude exports at 860,000 bpd in September, down from 2.2 million bpd at the end of 2011.
Similar curbs on LPG will likewise hurt Tehran. Before the sanctions, Iran exported almost four million metric tons a year, worth over $4 billion at current market prices.
After South Korea, Norwegian energy giant Statoil was the main buyer of Iranian LPG, industry sources said.
Company spokesman Morten Eek said Statoil had taken Iranian LPG as repayment of debts owed by the National Iranian Oil Company (NIOC) for completed projects on the giant South Pars gas field and exploration on the Anaran and Khoramabad fields.
"We receive the cargo at the LPG terminals in Iran and transport it by ship to markets outside Europe and the USA. Cargoes of LPG serve as down payment of NIOC's debt to us," he said.
"We have informed the Norwegian and United States authorities on this and we will continue the dialogue to ensure that our activities are in accordance with the current sanctions," Eek added, without commenting on whether Statoil would be able to continue taking the shipments.
A source at one South Korean energy company said his firm had stopped taking Iranian LPG since mid-October as Japanese insurers were refusing to provide cover for the cargoes.
Japanese shipping company Phoenix Tankers is one such company. Phoenix shipped Iranian LPG to South Korea earlier this year on a spot basis, said Tetsutaro Kozai, a spokesman at Mitsui OSK, the parent company of Phoenix.
"It is now up to our customers as the EU has discussed but not yet decided if LPG is subject to sanctions," he said. "If there is such a spot order, we'll comply with the EU's decision and consider if we can transport safely before accepting it."
This illustrates the problems in conducting the trade, even before the EU legislation officially comes into force.
London is the global centre for shipping insurance and with Britain an EU member, the sanctions will paralyze cover for Iranian gas. Likewise, shippers do not want to touch any trade that could risk business with clients such as major oil firms.
"Now some Western majors say if a vessel has loaded in Iran in the last three cargoes, they will not charter her," said one LPG trader.
SUPPLY CRUNCH
Another unintended consequence is that the sanctions are likely to push up Europeans' energy bills as winter nears.
Europe is already facing a supply crunch for heating and diesel fuel. Germany has even started to encounter diesel and other fuel shortages as continental refineries have cut runs due to low crude supplies.
Europe is likely to find itself struggling for supplies of yet another winter fuel if buyers in South Korea and elsewhere try to make up for their loss of Iranian LPG on the open market.
"It is a game changer," said another LPG trader. "Whatever the case, no more liftings equals massive impact on worldwide availabilities coming into winter."
Iran has vied with Kuwait as the fourth largest LPG exporter in the Middle East, behind Qatar, the United Arab Emirates and Saudi Arabia, several traders said.
Propane is used for heating, in agriculture and in petrochemicals along with butane, which in turn is also used for cooking in many developing countries and as a winter gasoline component.
Iran had been exporting LPG on six or seven Very Large Gas Carriers (VLGC) per month – between around 275,000-325,000 metric tons or nearing 4 million metric tons a year, several traders said.
South Korea was taking between two and four cargoes a month, market sources said, and Statoil usually one per month. Together they accounted for around two thirds of the Iranian exports.
A Kuwait-based customer, Arab Maritime Petroleum Transport Company has also been lifting about one cargo a month from Iran, the Korean source said.
AMPTC has been supplying LPG to Syria, according to documents reviewed by Reuters. Tehran has backed Syrian President Bashar al-Assad as his government fights rebels trying to overthrow him.
BILLION DOLLAR TRADE
South Korea imported LPG worth more than $1 billion in the first eight months of 2012, according to data from the Korea International Trade Association. Iran provided 37 percent of its propane imports and 22 percent of the butane.
South Korea's government has asked the EU for clarification on the new sanctions, an official said. Another source said imports were continuing from Iran but these may be ships which left Iran before the EU announced the sanctions on October 15.
Two LPG tankers loaded at the Iranian port of Assaluyeh around October 15. The Gas Vision tanker was heading to South Korea and the Clipper Sun tanker, on a long term charter to Statoil, is heading for Singapore, market sources and Reuters AIS Live ship tracking showed.
If its imports were hit, South Korea would have no choice but to buy LPG on the spot market.
South Korea would look for alternative supplies from Saudi Arabia, Qatar and the UAE if it could no longer import from Iran, a source at a buyer of Iranian LPG said. The same suppliers have helped to fill the gap on international markets left by the reduction in Iran's crude oil exports this year.
Three South Korean firms – E1, SK Gas and Samsung Total – import propane and butane, sources said.
The Iran Project is not responsible for the content of quoted articles.