By Xinhua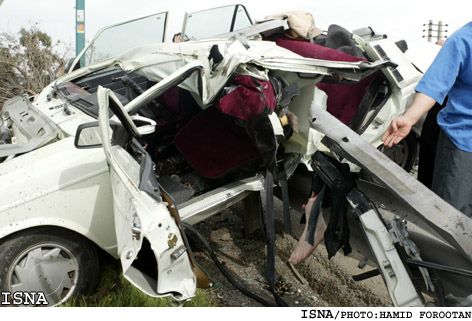 TEHRAN, Nov. 1 (Xinhua) — 12 Iranians were killed in two separate traffic accidents in northern Iran on Thursday, the official IRNA news agency reported.
Deputy chief of traffic police of Qazvin province, Bahram Zeinali, told IRNA that in one of the accidents, a car hit eight people in Qazvin-Zanjan highway and all of them died.
Another happened on Shal-Danesfahan road in the province. A car with four passengers crashed a trailer and all of them were killed too, Zeinali was quoted as saying.
The first accident was blamed on the people who illegally had entered the highway zone, according to the police officer.
In the second one, the driver carelessly diverted to the left and crashed the trailer coming from the opposite side.
In a traffic accident on Wednesday, 10 people were killed and 16 others were injured in southern Iran.
Twenty-six schoolgirls were killed and several others injured in a traffic accident on Oct. 20 in southwestern Iran.
Official figures show that more than 20,000 people died from traffic accidents and 200,000 others wounded annually in Iran. Inexperienced drivers and low-efficiency of the cars and the roads are also blamed for causing these accidents.
The Iran Project is not responsible for the content of quoted articles.