The Obama administration is rebuffing Israeli pressure to sharpen its threats to Iran over its disputed nuclear development program.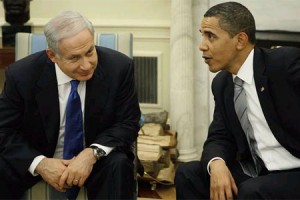 Israeli Prime Minister Benjamin Netanyahu called Sunday for the United States to declare "red lines" over Tehran's nuclear program, warning that otherwise, Iranian officials wouldn't take seriously Washington's implied threat of military action.
"The sooner we establish one, the greater the chances that there won't be a need for other types of action," he told Canada's CBC News.
But administration officials, who are using economic sanctions in an attempt to pressure Iran to curb its nuclear program, made it clear they do not intend to set specific red lines or deadlines for Iranian action. Skeptics of red lines say they limit the president's options and could draw the U.S. unintentionally into a war.
Asked Sunday whether the administration would set out red lines or deadlines, Secretary of State Hillary Rodham Clintontold Bloomberg Radio that "we're not setting deadlines."
Jay Carney, the White House press secretary, said Monday in response to a question about a U.S. red line that "it is not fruitful as part of this process to engage in that kind of specificity."
The Israeli government has been increasingly worried in recent weeks about the progress of the Iranian nuclear program and has been pressing the administration for new commitments that it would not allow Iran to become a nuclear power.
Israeli officials worry that Tehran, which says its nuclear development program is for civilian purposes only, is close to gaining bomb-making know-how. U.S. officials contend that the important threshold is when Iran begins actually assembling a bomb, and they believe they can detect such a step before it happens and take action to prevent it.
The diverging U.S. and Israeli perspectives have brought reports of friction and warnings that the differences could undermine joint efforts against Iran.
Israel responded quickly to the administration's comments, warning that the U.S. approach would hurt efforts to deter Iran.
"Without a clear red line, Iran will not cease its race toward a nuclear weapon," said an Israeli official, who declined to be identified because he wasn't authorized to speak publicly. "These statements will not stop Iran's centrifuges from spinning. Unfortunately, the opposite could be true. These statements won't deter Iran but could well put it at ease."
A U.S. official, explaining the American view, said, "The president has stated unequivocally that we will not allow Iran to obtain a nuclear weapon, and there should be no doubt that the United States will use all elements of American power to achieve this objective."
Among the objections to drawing a red line is that it gives the other side a pass to do everything up to that point. Another is that it limits American flexibility and could draw the U.S. into a war it doesn't want.
Retired Lt. Gen. Dan Halutz, a former chief of staff of the Israel Defense Forces, expressed skepticism about red lines. He told a group of journalists in Washington on Monday that it would also be difficult to reach agreement among all world powers concerned with the Iran nuclear threat, including Russia and China, on what such a threshold should be.
But Israeli officials believe some kind of red line, or a deadline, may be necessary because intelligence can't be counted on to detect an Iranian "breakout" — a rush effort to assemble a bomb.
Some Israeli observers see Netanyahu's latest effort as an attempt to find a way to back down gracefully from threats of an imminent attack against Iran, which many in Israel now believe will probably not happen before U.S. elections.
Over the weekend, government insiders began hinting to Israeli news media that the chances of an attack this year were diminishing and that Defense Minister Ehud Barak — who was once seen as a staunch proponent of a military operation — had changed his mind, leaving Netanyahu more isolated.
Calls for the Obama administration to set red lines could give Netanyahu the political cover he may need if Israel decides to refrain from an attack, despite its persistent claims that sanctions are not working and that Iran's nuclear program is accelerating.
In a column last week, senior analyst Amos Harel of the Haaretz newspaper said Netanyahu and Barak "overplayed their hand" in the "Iranian poker game" and may now be "seeking a ladder to climb down."
The Iran Project is not responsible for the content of quoted articles.