Netanyahu praises Canada's decision to sever ties with Tehran, says int'l community needs to set down this type of "red line."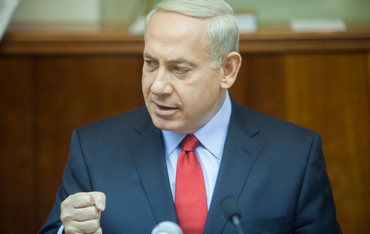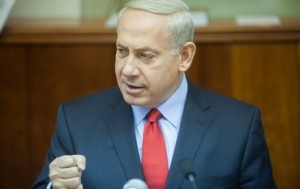 Prime Minister Binyamin Netanyahu opened the weekly cabinet meeting Sunday by praising Canada for its recent decision to cut ties with Iran, saying this constituted the type of  "red line" that the world needed to set down for Iran.
"I want to congratulate Canadian Prime Minister Stephen Harper on the moral, courageous step he took," Netanyahu said, adding this was a step that showed true leadership.
Netanyahu said the move sent a "principled message to the world that it is forbidden for the dark regime in Iran to get nuclear weapons."
Netanyahu called on the entire international community, "or at least its responsible members," to follow Canada's "determined example and set moral and practical red lines in front of the Iranians, lines that will stop the Iranian race to obtain nuclear weapons."
Netanyahu also praised his government's achievement during the last cabinet meeting of the Jewish year. That this was the fourth time he was wishing the cabinet a "Happy New Year" was in itself a rare achievement for an Israeli government, he stated.
President Shimon Peres also welcomed Canada's decision on Saturday night, saying "Canada has proven once again that morals come before pragmatism, Canada has demonstrated that policy must reflect principles and values."
"I thank my colleague Governor- General David Johnston, Prime Minister Stephen Harper and the whole nation of Canada for taking a stance based on the highest morals and hope that other nations will see Canada as a moral role model," Peres continued. "The diplomatic isolation of Iran is an important step for the security and stability of the entire world."
Ottawa gave Iranian diplomats in Canada five days to leave the country, branding the Islamic Republic the "most significant threat to global peace and security."
The Iran Project is not responsible for the content of quoted articles.