Iran's Deputy Foreign Minister for Arab and African Affairs Hossein Amir-Abdullahian is attending the four-way "contact group" meeting in Egypt's capital, Cairo, as Tehran's representative.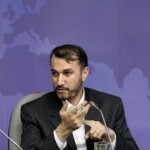 Amir-Abdullahian left Tehran for Cairo on Monday to attend the meeting of "contact group", comprising of Iran, Egypt, Saudi Arabia and Turkey, aimed at finding a solution for the year-long crisis in Syria.
The proposal of forming the contact group was put forward by the first democratically-elected president of Egypt, Mohammad Morsi, during his speech at the Non-Aligned Movement summit in Tehran.
Iran has on numerous occasions reiterated its support for the legitimate demands of the Syrian people and the government of President Bashar al-Assad, advising other countries to refrain from interfering in the internal affairs of the Arab country.
Syria has been experiencing unrest since mid-March last year. Scores of people, civilian as well as security forces and insurgents have been killed in the violence.
The Syrian government says armed insurgents and terrorists are behind the unrest, while the opposition accuses the governmental forces of killing protesters.