Head of the Aerospace Organization in the Defense Ministry announced that Iran plans to unveil Meshkat (Lantern) Cruise Missile with a range of over 2,000 km in the near future.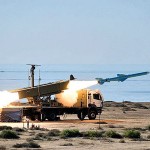 In an interview with defense correspondent of Fars News Agency, Brigadier General Mehdi Farahi said that the highly advanced cruise missile, 'Meshkat', seen as a huge advancement in Iran's missile capability as its range is several times more than the country's most advanced cruise products.
As far as range is concerned, Iran's formerly best cruise missile could travel a distance not more than 300km, meaning that the country has stretched the range of its cruise missiles almost 7 times, General Farahi said.  
Farahi affirmed that Meshkat Cruise Missile is a sea based, land based, and space based missile, and it can be fired from aircraft.
He further pointed to the wide array of Iranian cruise missiles, saying Tehran's products include Zafar (Triumph), Nasr (Victory), Nour (Light), Qader (Mighty) and Ghadir.
According to the General, Ra'd (Thunderbolt) and Meshkat are the latest products of Iran's cruise missile industry.
The new cruise missile, Meshkat, is widely believed to go on display during the military parades marking the Week of Sacred Defense in September.
Stating that Iran is in the best position in the area of ballistic missile, Head of the Aerospace Organization in the Defense Ministry added "our background in this position is so solid and reassuring that we no longer think of increasing the number of missiles, but we are considering their quality.