By International Campaign for Human Rights in Iran
Youcef Nadarkhani, a Christian pastor accused of apostasy and sentenced to death, was released from prison on Saturday, September 8. Announcing the news to the International Campaign for Human Rights in Iran, Nadarkhani's lawyer, Mohammad Ali Dadkhah, said, "At the court session on Saturday, Youcef Nadarkhani was acquitted of the charge of 'apostasy,' as well as the new charge of 'extortion.' He was only sentenced to three years in prison on the charge of 'propaganda against the regime,' and as he had already spent this time in prison, he was therefore released after his court session."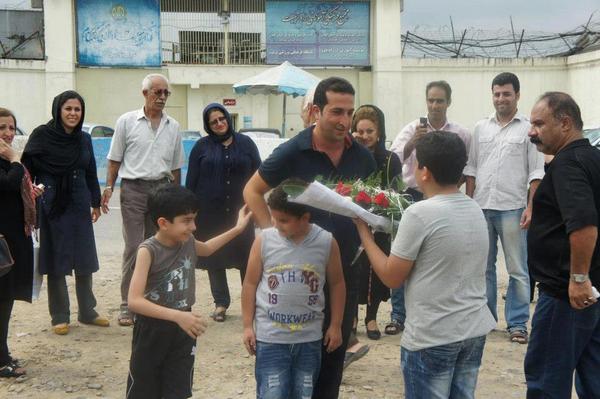 "I presented my defense of my client in court today, and then the judge acquitted him of his charges," Mohammad Ali Dadkhah told the Campaign.
Youcef Nadarkhani is a 34-year old pastor, who was born to Muslim parents. He converted to Christianity at the age of 19. Before his arrest on charges of apostasy in October 2009, Nadarkhani led a congregation of about 400 Christians in Rasht. The congregation is part of a nationwide evangelical group called the Church of Iran, many of whose members have been arrested and prosecuted since 2009. Youcef Nadarkhani's death sentence was upheld by Branch 11 of Gilan Province Appeals Court on August 23, 2010. The Supreme Court overruled his sentence on 28 June 2011, on the condition that he repent, but Nadarkhani refused to repent and leave Christianity.
Earlier, in an interview with the International Campaign for Human Rights in Iran, Mohammad Ali Dadkhah had said, "As 'apostasy' is not a crime defined in the Iranian Penal Code and 'apostasy' is not considered a crime, the court must review Mr. Nadarkhani's conduct from the point of view of insulting the Prophet of Islam. And in this view, as my client has not made any insults, he can tell the court the same thing. In the end, I hope that his death sentence is never upheld."
The Iran Project is not responsible for the content of quoted articles.