By France 24
AFP – US sanctions on Syria and Iran are harming Russian business interests, Foreign Minister Sergei Lavrov said Saturday.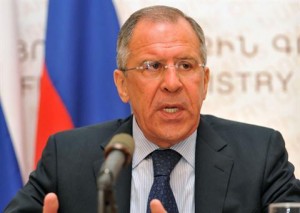 "Unilateral US sanctions against Syria and Iran are increasingly becoming extra-territorial in nature and are touching upon the interests of Russian business," Lavrov said after meeting US Secretary of State Hillary Clinton.
He said Russian banks were particularly being affected.
Washington has imposed asset freezes against more than 100 members of the Syrian regime and barred US firms from doing business with them, and slapped sanctions against the Syrian state oil firm Sytrol last month.
But Russia has stirred Western and Arab world anger by vetoing three UN Security Council resolutions providing for sanctions against Syrian President Bashar al-Assad and aimed at ending the deadly 18-month conflict.
"In Syria we are not supporting any sanctions because sanctions will not bring about anything," Lavrov told reporters on the sidelines of the annual APEC summit that Russia is this year hosting in the port city of Vladivostok.
The United States has also imposed wide-ranging financial sanctions against Iran over its nuclear programme in an attempt to starve Tehran of revenue, and pressed other countries to cut their imports of Iranian oil.
The Iran Project is not responsible for the content of quoted articles.