Iran's Deputy Ambassador to the UN Eshaq Al-e-Habib condemned the comments made by the Israeli envoy to the UN, Ron Prosor which made charges against Iran in regard to the developments in Syria.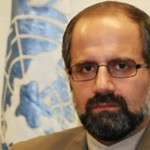 Addressing the 193-member UN General Assembly in New York on Tuesday, Al-e-Habib said "The Zionist regime (Israel)'s representative once again stated unfounded and futile allegations against the Islamic Republic of Iran,"
Commenting on the claims made by the Israeli permanent representative to the UN on Iran's meddling in Syria during the General Assembly session, Al-e Habib said that these trivial accusations are made as the international community is frustrated at the Israeli regime's crimes and human rights violations in the region and other parts of the world, making it the main source of instability and insecurity.
"It is ridiculous that the representative of the regime speaks of democracy and human rights while the hands of the regime's mercenaries are stained with the blood of thousands of innocent people," the deputy ambassador explained.
Iran's Deputy Envoy to the UN Eshaq Al-e-Habib also voiced the country's readiness to support the new UN-Arab League special envoy to Syria Lakhdar Brahimi, calling upon all sides in the region and the world to work to come up with a political solution to the crisis in Syria.
During his speech at the UN General Assembly session on Tuesday, Al-e-Habib said that Iran is ready to help Brahimi as it did with Kofi Annan to solve the crisis in Syria, pointing to a subversive role played by some countries in Syria.
He went on to say that "the broader political reconciliation as well as the national unity, integrity, and stability of Syria will be maintained" only through a Syrian-led peaceful resolution to the unrest in the country.
Iran supports any constructive, unbiased, impartial, and peaceful Syrian-led political process and stands ready to play our constructive role in that process," he said.