By Reuters
Tehran says it will punish any US "folly" in Gulf, makes no distinction between Israeli, US interests; IRGC commander's comments to Fars news agency come as Obama fends off accusations that he's too soft on Iran.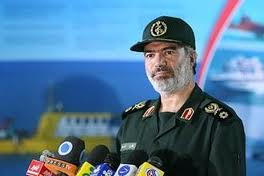 DUBAI – Iran makes no distinction between US and Israeli interests and will retaliate against both countries if attacked, an Iranian military commander said on Wednesday.
The comments came after the White House denied an Israeli news report that it was negotiating with Tehran to keep out of a future Israel-Iran war and as US President Barack Obama fends off accusations from his election rival that he is too soft on Tehran.
"The Zionist regime separated from America has no meaning, and we must not recognize Israel as separate from America," Ali Fadavi, naval commander in Iran's Islamic Revolutionary Guard Corps, was quoted as saying by the Fars news agency.
"On this basis, today only the Americans have taken a threatening stance towards the Islamic Republic," Fadavi said. "If the Americans commit the smallest folly they will not leave the region safely."
Iran – which has missiles that could reach Israel and US targets in the region – has conducted military exercises and unveiled upgraded weapons in recent months, aiming to show it can defend itself against any strike against its nuclear sites.
Israel – thought to be the only country in the Middle East with nuclear weapons – says the prospect of a nuclear armed Iran would pose a threat to its existence. Tehran denies it is developing weapons and says its nuclear program is peaceful.
With the approach of US elections in November, Prime Minister Binyamin Netanyahu has called for a tougher stance against Iran – implicitly knocking Obama's emphasis on diplomatic and sanctions pressure to halt Iranian nuclear work.
While Israel would expect US backing if it decided to strike Iran, the top US general has suggested Washington would not be drawn into a conflict.
"I don't want to be complicit if they choose to do it," Britain'sGuardian newspaper quoted Chairman of the Joint Chiefs of Staff Martin Dempsey as saying.
Netanyahu abruptly ended a meeting of Israel's security cabinet on Wednesday, saying someone in the forum had leaked details of its discussions on Iran.
Any decision to go to war against Iran would, by Israeli law, require the approval of the security cabinet. One government official, who spoke on condition of anonymity, said no such decisions had been on the table at Tuesday's meeting.
The Iran Project is not responsible for the content of quoted articles.