By UPI
TEHRAN, Sept. 4 (UPI) — An Iranian naval commander said Tuesday that national intelligence services were monitoring the movements of U.S. warships in the Persian Gulf.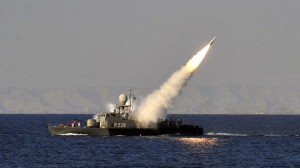 The U.S. military has deployed assets to the Persian Gulf region to protect key shipping lanes through the Strait of Hormuz.
In August, U.S. officials said Washington was examining its missile defense in the region given recent tensions with Iran. A missile defense system planned for Eastern Europe was touted by U.S. Secretary of State Hillary Clinton as vital to Iranian deterrence.
Iran's navy commander Rear Adm. Habibollah Sayyari said U.S. military activity in the Persian Gulf was under close observation.
"We monitor all the movements of U.S. warships and have intelligence command over their activities," he was quoted by Iran's state-funded broadcaster Press TV as saying.
The U.S. Navy's guided-missile destroyer USS Porter struck a Japanese oil tanker in the region last month. The destroyer was on deployment to the U.S. Navy 5th Fleet area for maritime security operations.
"The presence of the U.S. warships in the free waters of the Persian Gulf and the Sea of Oman is in accordance with international law and we have not allowed the U.S. (military) to enter our territorial waters," Sayyari said.
The Iran Project is not responsible for the content of quoted articles.