By Russia Today
Israel is once again stirring the pot with harsh rhetoric regarding Iran, with Prime Minister Benjamin Netanyahu accusing world powers of failing to draw a "clear red line" to curb Tehran's alleged nuclear weapons program.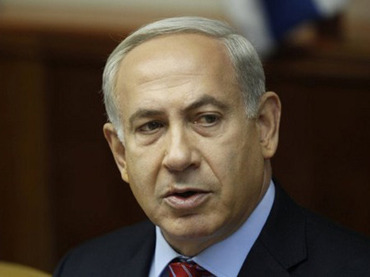 "I believe the truth must be stated: the international community is not placing a clear, red line for Iran," Netanyahu said at his weekly cabinet meeting on Sunday.
The Israeli PM added that since Tehran "does not see international resolve to stop" what the US and Israel speculate without evidence to be a nuclear weapons program, all efforts to halt it are in vain.
"Until Iran sees this clear red line and this determination, it won't stop advancing its nuclear program. Iran must never be allowed to acquire nuclear arms," he declared.
Some speculate that Netanyahu's accusatory comments were primarily targeting the US over its reluctance to back Israel in a military attack on Iran.
The remarks come after the International Atomic Energy Agency (IAEA) published its new report on Iran's use of nuclear power, saying Tehran had doubled its uranium enrichment capacity at the underground Fordo facility despite UN Security Council resolutions and international pressure.
The UN nuclear watchdog's report, made public on Thursday, demonstrated that Iran currently has around 2,000 uranium-enrichment centrifuges installed at the Fordo facility, compared with around 1,000 in May.
"The report confirms what I have been saying for a long time – the international sanctions may be weighing heavily on Iran's economy but are not hindering the advancement of Iran's nuclear program," Netanyahu announced, adding that Tehran is using talks to buy time to develop an atomic bomb.
The Iran Project is not responsible for the content of quoted articles.