By Trend
Egyptian President Mohamed Mursi left Tehran after handing over the presidency of Non-Aligned Movement to Iran during 16th NAM summit on Thursday, Mehr News Agency reported.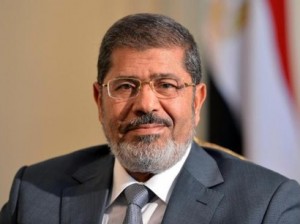 Mehr reported that Iranian President Mahmoud Ahmadinejad and Mursi met together and held bilateral talks after summit, without publishing further details about the topics of talks.
Mursi arrived in Tehran on Thursday morning.
Mursi who is first Egypt president that visited Iran since 1979, left Tehran after first round of heads level summit, while other rounds of the summit will continue until Friday evening.
Before, a diplomatic source who serves at the Interests Section of the Islamic Republic of Iran in Egypt rejected "rumours" about Egyptian President Mohammed Mursi's four-hour long visit to Iran, saying his visit to Iran's nuclear facilities was scheduled in addition to his visit to Tehran to take part in 16th summit of Non-Aligned Movement.
The diplomat, who spoke with Mehr News Agency anonymously, added that Mursi's visit to Iran will take more time than was published by some media outlets (4 hours).
Iran and Egypt cut diplomatic relations in 1979 because of Egypt's peace accord with Israel.
NAM is an international organisation that brings together 120 countries in the world on the principles of non-participation of military blocs. NAM was officially established by 25 states at the Belgrade Conference in September 1961. The movement's establishment was preceded by the Bandung Conference in 1955.
The Iran Project is not responsible for the content of quoted articles.