Six decades since its establishment, the United Nations needs fundamental reforms in order to adapt to the "modern global developments", Iran's Foreign Minister Ali Akbar Salehi said during the opening ceremony of the Non-Aligned Movement (NAM) expert-level meeting in the Iranian capital, Tehran, on Sunday.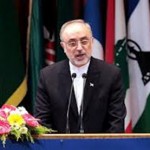 Ali Akbar Salehi said "if we accept that multilateralism is central to the United Nations, this organization should be considered an intergovernmental organization which is led by all its members, and this is well reflected in the current assembly method," ISNA reported.
Yet, expressing concern about increasing the power of the UN Security Council and reducing the capabilities and functions of the UN General Assembly, Salehi emphasized that many countries believe that the UN should heed the establishment of "a more democratic Security Council" as a major part of its reforms.
He added the existing global order has only entailed injustice, discrimination, armed clashes, abuse of power and all forms of colonialism and foreign occupation, expressing the opposition of the NAM member states to such negative consequences.
"We believe that the General Assembly, as the main democratic body of the UN, should fulfill its duties to deal with issues pertaining to the international peace and security," Press TV quoted Salehi as saying.
Elsewhere in his opening remarks in the experts meeting of the 16th NAM summit, the minister said Iran will reinforce the performance of the NAM during its presidency over the organization and help revive it so that it would be able to shoulder its historic duties.
Salehi stressed that Iran will do its best to promote the basic objective of the organization through boosting solidarity among member states which is the most urgent characteristics needed for a dynamic movement, IRNA reported.
Moreover, he affirmed that Non-Aligned Movement should seriously confront imposing domestic laws and their cross-border enforcement, and economic measures, including unilateral economic sanctions imposed by certain countries against NAM member countries.
He stressed that NAM has unconditionally and consistently opposed such measures and condemned such practices.
The 16th summit of the NAM member states kicked off in the Iranian capital, Tehran, on Sunday.