By Reuters
(Reuters) – U.N. Secretary-General Ban Ki-moon will attend a summit meeting of leaders of non-aligned developing nations in Iran next week, defying calls from the United States and Israel to boycott the event, a U.N. spokesman said on Wednesday.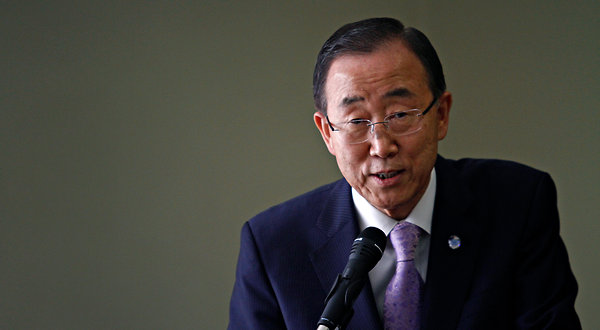 U.N. spokesman Martin Nesirky told reporters that Ban will be in Tehran August 29-31 for a meeting of some 120 non-aligned nations, and for bilateral talks with senior Iranian officials.
"With respect to the Islamic Republic of Iran, the Secretary-General will use the opportunity to convey the clear concerns and expectations of the international community," he said. "These include Iran's nuclear program, terrorism, human rights and the crisis in Syria.
Ban is "fully aware of the sensitivities" linked to his visit, but he is also aware of his responsibilities as head of the United Nations, Nesirky said.
He noted that non-aligned nations comprise two-thirds of all U.N. member states.
One of Ban's responsibilities is "to pursue diplomatic engagement with all … (U.N.) member states in the interest of peacefully addressing vital matters of peace and security," Nesirky said.
He added that Ban hoped to have "meaningful and fruitful discussions" with Supreme Leader Ayatollah Ali Khamenei, President Mahmoud Ahmadinejad and other top members of the Iranian government.
A U.N. Security Council diplomat said privately that it was important for the secretary-general to go. He said Ban should not turn his back on the entire non-aligned movement because one member, Iran, happens to have a president who doubts the Holocaust and questions Israel's right to exist.
Iran says its nuclear program is peaceful, but Western powers and their allies fear it is aimed at developing atomic weapons. Ban will raise this issue and Iranian leaders' anti-Israel remarks at bilateral meetings with Iranian officials on the sidelines of the non-aligned summit, envoys said.
Iran has been hit with four rounds of U.N. Security Council sanctions for refusing to halt its nuclear enrichment program.
The Tehran summit, which Egyptian President Mohamed Mursi also will attend, takes place Sunday through Friday. Mursi is the first Egyptian head of state to visit Tehran since the 1979 Islamic revolution.
BAN CRITICIZES IRAN FOR ANTI-ISRAEL REMARKS
Earlier this month, Israeli Prime Minister Benjamin Netanyahu urged Ban to cancel his plans to participate in the Tehran summit, according to Israeli media.
Washington made clear last week that it also wants the U.N. chief to boycott the event, and on Wednesday the U.S. State Department reiterated its misgivings.
"Iran is going to manipulate this opportunity and the attendees to try to deflect attention from its own failings," State Department spokeswoman Victoria Nuland told reporters.
"This is a country that is in violation of all kinds of U.N. obligations and has been a destabilizing force," she said.
"We hope that those who have chosen to attend, including U.N. Secretary General Ban Ki-moon, will make very strong points to those Iranians that they meet about their international obligations," she added.
The American Jewish Committee, an influential Jewish advocacy group, issued a statement on Wednesday saying it was "deeply disappointed" with Ban's decision to go.
Last week Ban sharply criticized Khamenei and Ahmadinejad, describing their latest verbal attacks on Israel as "offensive and inflammatory.
Ahmadinejad said there was no place for the Jewish state in a future Middle East, echoing remarks he has made about Israel. He has also repeatedly called into question the Nazi extermination of Jews during World War Two – the Holocaust.
Khamenei said last week that Israel would one day be returned to the Palestinian nation and cease to exist.
Earlier on Wednesday, the United Nations said Iran appears to be supplying Syria with weapons, as the 17-month conflict that began as a popular uprising against Syrian President Bashar al-Assad slides deeper into civil war.
Separately, Alireza Miryousefi, spokesman for Iran's U.N. mission in New York, defended the Tehran summit in a letter to the editor in The Washington Post. He was responding to an editorial in the newspaper that said Ban's presence in Tehran "will dignify a bacchanal of nonsense."
Miryousefi said the Post's editorial board "unjustifiably smeared Iran and mocked the upcoming Non-Aligned Movement summit in Tehran."
 The Iran Project is not responsible for the content of quoted articles.