By Reuters
(Reuters) – Iran unveiled upgrades to six weapons on Tuesday, including a more accurate short-range missile, a more powerful naval engine and an airborne testing laboratory, Iranian media reported.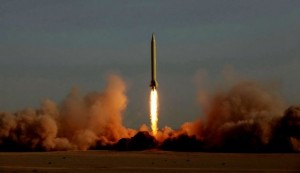 The hardware was presented at a ceremony marking Defence Industry Day and attended by President Mahmoud Ahmadinejad and Defence Minister Ahmad Vahidi.
Israel has said it is considering military strikes on Iran's nuclear sites if the Islamic Republic does not resolve Western fears it is developing atomic weapons technology, something Tehran denies.
Iran says it could hit Israel and U.S. bases in the region if it comes under attack.
It has also threatened to block the Strait of Hormuz, the neck of the Gulf through which 40 percent of the world's sea-borne oil exports pass, which would likely invite a military response from the United States.
Among the upgrades was a fourth-generation of the Fateh-110 missile, with a range of about 300 km (180 miles).
Iran said earlier this month it had successfully test-fired the new model, which it said was equipped with a more accurate guidance system.
"This missile is one of the most precise and advanced land-to-land ballistic missiles using solid fuel," Vahidi was quoted as saying by the Fars news agency. "In the last decade it has had a significant role in promoting the Islamic Republic of Iran's defence capabilities."
In July, Iran said it had successfully test-fired medium-range missiles capable of hitting Israel, and tested dozens of missiles aimed at simulated air bases.
It also presented a more powerful, 5,000-horsepower seaborne engine, the Bonyan-4, Fars quoted Vahidi as saying. A previous version had 1,000 horsepower, the Iranian Students' News Agency (ISNA) said.
DOUBTS OVER CAPABILITIES
Military experts have cast doubt on Iran's claims of weapons advances, especially its assertions about its missile program, saying it often exaggerates its capabilities.
"The Fateh-110 has a crude guidance and control system that operates during the missile's ascent" rather than during final descent, said Michael Elleman, senior fellow for missile defence at the International Institute for Strategic Studies, in an e-mail.
"The Fateh-110 appears to lack the subsystems needed to effect terminal steering."
Iran also presented Armita, an "airborne laboratory" to help test aircraft launch systems and oxygen generation and train fighter pilots, Fars reported.
It was named after the daughter of Dariush Rezaeinejad, an Iranian scientist killed last year, Vahidi said, according to ISNA.
Iran believes agents working with foreign intelligence services including the American CIA and Israel's Mossad are behind the assassinations of several of its scientists.
The Iran Project is not responsible for the content of quoted articles.