By swissinfo.ch
Swiss humanitarian aid workers arrived in Iran on Friday and made their first tour of the areas in the north west of the county which were devastated by twin earthquakes last Saturday.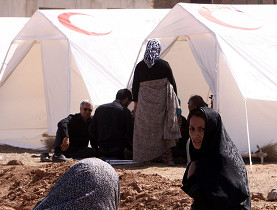 Bernhard Huwiler, leader of the four-person Swiss humanitarian team, told swissinfo.ch by telephone from his hotel room that in one village near the epicenter of the quake, 42 people from a total population of 470 were killed.
"We could see one village totally destroyed, where people died under the rubble, so it was really quite a sad moment," Huwiler said, adding that the people affected were amongst Iran's poorest.
"You can see it also in the way the houses were constructed, they collapsed quite easily, so I think it was the poorest that were mostly hit."
Huwiler said a flight carrying Swiss supplies of winterised tents, tent heaters and medical supplies which would enable the establishment of a temporary hospital were due to arrive on Saturday.
"All of the people live now in tents and the problem will be that in about one month the temperature will be below zero, even though today it is 30 degrees," he said. "The winter is coming soon and it's questionable whether the reconstruction will be so fast that people will be back in their houses before winter."
Switzerland is one of the few countries from whom Iran has accepted humanitarian assistance in the wake of the earthquakes in which more than 300 people were killed and thousands more were injured.
Huwiler said his team was working closely with the Iranian Red Crescent with whom they had maintained a positive relationship, particularly in light of Swiss aid delivered in the wake of the 2004 Bam earthquake.
"It's amazing how the Iranians just don't forget that and I think they have given us privileged access so far. But spontaneous contact with the population is rather rare," he said.
Huwiler said that apart from one Unicef worker, he had not seen any other foreigners during the course of the day. He said many Iranians from the south were spontaneously driving north with cars laden with private goods and donations to help the relief effort.
 The Iran Project is not responsible for the content of quoted articles.