A number of the Iranian members of Parliament signing a plan called a probe on State Registry of Deeds and Real Estate Organization.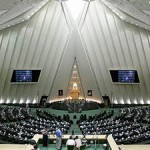 The signatories say that the cases show that "land abuses has become a national crisis", DW reported.
The plan was presented on the Parliament's Wednesday public meeting (August 14) and 20 MPs have already signed it. According to DW, the signing process is continuing.
Due to the Parliament's closure, it is expected that the plan will be put on the agenda on the next week.
The high volume of the undecided cases of land abuses is one of the reasons of proposing this plan, Iranian MPs said.