By Reuters
(Reuters) – Israel is still weighing a course of action against Iran's nuclear program, Defence Minister Ehud Barak said on Thursday, confirming a U.S. assessment that no decision on a military attack had been made.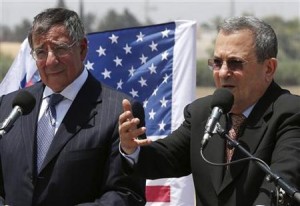 "There is a forum of nine (ministers), there is a (security) cabinet, and a decision, when it is required, will be taken by the Israeli government," Barak said in parliament in response to accusations by opposition lawmakers that he and Prime Minister Benjamin Netanyahu were rushing towards war with Tehran.
A flurry of comments by Israeli officials and Israeli media reports over the past week put financial markets on edge by appearing to suggest a strike could be launched before the U.S. presidential election in November.
At a news conference in Washington on Tuesday, U.S. Defense Secretary Leon Panetta said it was important that military action be the "last resort", adding that there was still time for sanctions and diplomatic pressure to work.
"I don't believe they've made a decision as to whether or not they will go in and attack Iran at this time," Panetta said.
At a parliamentary session that ratified the appointment of a new civil defence minister, Barak said the Iranian issue was being discussed repeatedly and in depth in Israeli government forums.
"This doesn't mean there aren't differences. The issue is complicated, but the issue is being deliberated," he said, referring to reports of high level divisions on whether or not to launch an attack on Iran's remote nuclear sites.
Iran rejects Israeli and Western allegations that its nuclear program is aimed at producing atomic weapons.
It has threatened wide-ranging reprisals if attacked, retaliation that could increase the likelihood the United States would be drawn into the conflict.
 The Iran Project is not responsible for the content of quoted articles.