By Reuters
(Reuters) – Prime Minister Benjamin Netanyahu chose a former security chief on Tuesday as his new civil defense minister amid heightened public debate over a possible strike on Iran.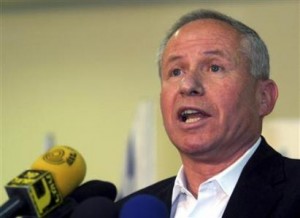 Avraham Dichter, who has served as internal security minister and head of the Shin Bet, Israel's domestic intelligence agency, has said in the past he would prefer Israel not to go it alone in any attack on Iran's nuclear facilities.
Washington has urged Israel to allow more time for diplomacy to rein in Iran's nuclear programme, which Tehran says is peaceful. But Israeli officials have said lagging talks by major powers with Iran to reduce its uranium enrichment have given Tehran more time to come closer to developing a nuclear weapon.
Israeli commentators described Dichter, 59, as close to both Netanyahu and Defence Minister Ehud Barak, the two top decision-makers in any future military action against Iran. Dichter was a member of the elite commando unit where they once served.
Confirming the appointment, Netanyahu said Dichter "will now have an important assignment to assist in what he has been involved in all his life, contributing to state security."
Dichter will replace former general Matan Vilnai, recently named as Israel's ambassador to China. On his Facebook page, Dichter said he had accepted the cabinet post, making no mention of Iran.
In a sign of mounting Israeli concern, Netanyahu told his cabinet on Sunday that most other threats to Israeli security were "dwarfed" by the prospect of Iran producing an atomic warhead.
Israel has been "investing billions in home-front defence," Netanyahu also said, adding to media speculation his cabinet might be mulling a possible attack.
The Israeli military has this week been testing a text message emergency notification service in about a dozen cities. A television station reported on Sunday that Israel expected to sustain as many as 50,000 missile strikes in the event of any conflict with Iran.
In remarks to reporters in February, Dichter said that Israel "is not a superpower" and should "not lead a world offensive against Iran" although it needed to prepare in case the world did not take action.
Netanyahu recruited Dichter, the son of Holocaust survivors, from the centrist Kadima party that left his government last month after a short-lived political alliance.
Dichter led the Shin Bet during a Palestinian uprising a decade ago, and was widely seen as responsible for a policy of assassinating leading militants blamed for involvement in suicide bombings against Israelis.
The Iran Project is not responsible for the content of quoted articles.