By Daily Star
JEDDAH, Saudi Arabia: Iranian President Mahmoud Ahmadinejad arrived on Monday in Saudi Arabia ahead of an extraordinary summit in Mecca expected to focus on the Syria conflict, on which Tehran and Riyadh have taken opposing sides.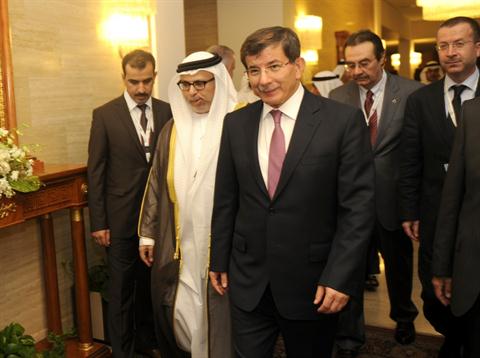 Ahmadinejad arrived in the Muslim holy city of Medina, in western Saudi Arabia, SPA state news agency said, adding that he visited the mosque and tomb of Islam's Prophet Mohammed.
The summit of the Organisation of Islamic Cooperation is to take place on Tuesday and Wednesday in the Muslim holy city of Mecca.
"The world today is in a very sensitive situation," Ahmadinejad told reporters just before leaving Tehran, according to the Fars news agency.
"Different groups are at work and the enemies are actively pursuing their aims and a great deal of energy is being spent by Islamic governments and groups on arguing and confronting each other," he said.
"I hope that the summit will focus on increasing unity and lowering antagonism," he said.
Saudi Arabia hosts the headquarters of the Organisation of Islamic Cooperation, a 57-member pan-Muslim body.
The oil-rich Gulf nation, a close US ally that observes an extreme version of Sunni Islam, supports the mostly Sunni rebels in Syria fighting to overthrow the Shiite-dominated regime of Syrian President Bashar al-Assad.
Iran, a Shiite state, is Assad's biggest ally and has pledged him full support in his fight, though it denies providing him with soldiers or arms.
Tehran, however, accuses Saudi Arabia, Qatar and Turkey of arming and financing the Syrian rebels.
Last week, Iran held its own 29-nation conference on Syria attended mostly by ambassadors from like-minded countries, with a couple of foreign ministers. Saudi Arabia was not present.
At the end of this month, Iran is to host another international gathering: a summit of the Non-Aligned Movement, which groups 120 countries considering themselves independent of any of the world's major power blocs.
Iran and Saudi Arabia, long regional rivals, have several other points of contention between them.
Among them is Bahrain, where Iran has criticised Saudi military involvement to put down Shiite pro-democracy protests and Riyadh has accused Tehran of meddling.
In parallel, Saudi Arabia has suggested Iran is to blame for fomenting unrest in its eastern province, where much of the Saudi oil industry is located.
Iran is also angry at Saudi Arabia for flooding the world market with its oil this year to prevent prices spiking because of EU and US sanctions on Iranian crude exports.
And Saudi Arabia has reacted furiously to what US officials said in October 2011 said was an Iran-sponsored plot to assassinate the Saudi ambassador to Washington. Tehran denies involvement.
The bad blood between Iran and Saudi Arabia goes back years, according to US diplomatic cables revealed by the WikiLeaks website.
One cable, dated April 20, 2008 and published on the website of the Guardian newspaper, noted that Saudi King Abdullah — who invited Ahmadinejad to the Mecca summit — had frequently exhorted the United States to attack Iran, to "cut off the head of the snake," as he put it.
The Iran Project is not responsible for the content of quoted articles.