By Telegraph
Iranian hospitals were struggling to cope with thousands of wounded people yesterday in the aftermath of twin earthquakes that left an estimated 250 people dead.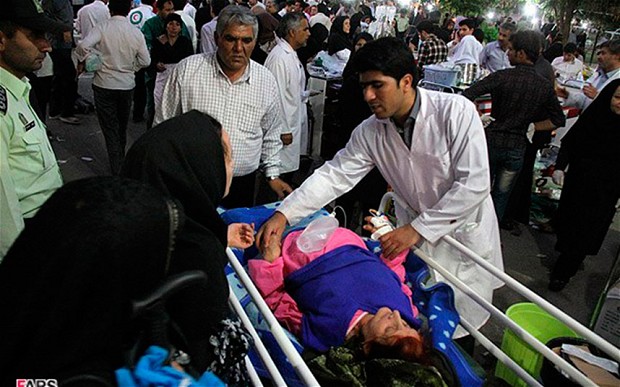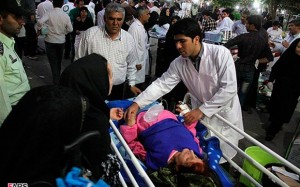 Rescue operations were called off after officials said all survivors had been found following Saturday's 6.4 and 6.3 magnitude earthquakes that flattened villages in the north-west of the country, leaving over 2,000 people injured.
"There are no people left to recover from under the rubble in any village, and all necessary aid is currently being distributed," said Hossein Ghadami, an interior ministry official in charge of disaster management. However, other officials at the ground warned that there were still scores of people buried and the death toll could rise.
Over 100 villages were badly damaged and 12 were completely destroyed, leading to an estimated 16,000 people being made homeless. Thousands of people spent the night sleeping outdoors both on Saturday night and last night, while others huddled in tents and makeshift shelters.
Emergency aid workers were struggling to reach some areas as many of the villages were inaccessible by road and phone lines were down. All the local hospitals were full.
"I saw some people whose entire home was destroyed, and all their livestock killed," Tahir Sadati, a local photographer, said by telephone. "People need help, they need warm clothes, more tents, blankets and bread."
Grieving women wailed over the bodies of the dead, many of whom were women and children. Residents said many of the villages' men had been working their fields when the disaster struck.
Alireza Haidaree, an emergency worker who supervised a bulldozer working in the village of Baje Baj, where 33 of the 414 inhabitants died, said: "This village is a mass grave. There are so many other villages that have been completely destroyed."
Photographs posted on Iranian news websites showed numerous bodies, including children, lying on the floor of a white-tiled morgue in Ahar and medical staff treating the injured in the open air as dusk fell. Other images showed rescue workers digging people out of rubble – some alive, many dead.
Iran is situated on major fault lines and has suffered several devastating earthquakes in recent years, including a 6.6 magnitude quake in 2003 that reduced the historic south-eastern city of Bam to dust and killed about 31,000 people.
The Iran Project is not responsible for the content of quoted articles.