By Daily Star
WASHINGTON: The U.S. said Friday it had "eyes" and "visibility" inside Iran's nuclear program and would know if Tehran made a "breakout" toward acquiring a nuclear weapon.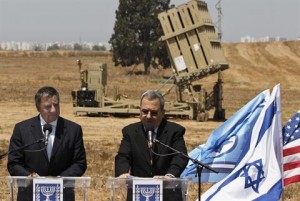 The comment by White House spokesman Jay Carney followed Israeli Defense Minister Ehud Barak's remark that new U.S. intelligence suggested that the threat from Iran was becoming more "urgent."
Carney declined to comment on intelligence matters in detail but said that Washington and Israel were agreed on Iran's ambitions and its nuclear program.
"I would also say that we have eyes – we have visibility into the program, and we would know if and when Iran made what's called a breakout move toward acquiring a weapon."
Breakout capability is commonly understood to be the point when a state acquires the knowledge, capability and materials to build a nuclear bomb if it wants to.
Carney said later in his briefing that he was referring to International Atomic Energy Agency officials mandated to inspect Iran's nuclear sites because Tehran is a signatory to the nuclear Non-Proliferation Treaty.
But experts believe there has been substantial infiltration and sabotage of Iran's nuclear program by Western and Israeli intelligence agencies.
Military sites in Iran that do not have confirmed nuclear activities are off-limits to inspectors unless provided for by agreement or under the terms of an Additional Protocol to the NPT that Iran dropped in 2006.
The White House spokesman said, however, that Washington still believed that "there is time and space to pursue the diplomatic option that includes extremely and increasingly aggressive sanctions."
But the U.S. has said it has not taken a military option off the table.
A series of visits by high-ranking U.S. defense officials to Israel has raised speculation that Washington is trying to dissuade the Jewish state from a pre-emptive military attack.
In an interview Thursday, Barak said a recent U.S. intelligence report made the Iranian issue more "urgent" and had moved closer to the U.S. position.
The United States has not said publicly if it has changed its intelligence assessment on the state of Iran's nuclear program.
Carney's comments come as speculation about war with Iran ran wild in the Israeli press.
Top-selling Israeli daily Yedioth Ahronoth published a report Friday saying Israel's prime minister and defense minister would like to attack Iran's nuclear sites before the U.S. election in November but lacked sufficient support within both their cabinet and military.
The report, which appeared to draw on discussions with the Israeli defense minister but included no direct quotes, said Netanyahu favored a military strike on Iran in the autumn months, but that he had failed to win over top officials' support because of the armed forces' objections over tactical and strategic hurdles the operation would face.
Washington urged Israel to give diplomacy more time, but in recent months, Israel and the U.S. have publicly sought to play down their differences, the latter saying military force would be a last-ditch option against Iran.
The Iran Project is not responsible for the content of quoted articles.