Deputy Minister of Road and Urban Development Ahmad Sadeghi announced the opening of Khaf to Herat railway in this year.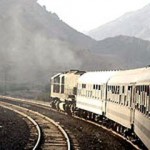 Concerning the current condition of this project, Ahmad Sadeghi said that infrastructures have already been completed and we are in the process of tracklaying, Asre-Eqtesad reported.
Sadeghi  also stated that railway company has also taken necessary measures to secure trains and the wagons.
Since the development of infrastructures causes the economy and culture to develop, we launch the railroad between Iran and Afghanistan to secure our borders, Sadeghi said.