Iranian 74kg freestyle wrestler Sadegh Goudarzi won silver medal in the London 2012 Olympic Games on Friday.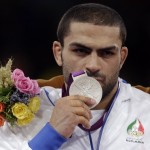 After convincingly beating opponents from Bulgaria, Uzbekistan and Hungary, he succumbed to world champion Jordan Burroughs of the United States. The same fighter who'd beaten him in last year's world championship final, Press TV reported.
Jordan Burroughs (24) from New Jersey, USA  had been promised a $250,000 check by USA Wrestling if he tops the podium in London.
With Goudarzi's silver medal, Iran's total medals in the Olympic games reached 10; 4 gold, 5 silver, and 1 bronze.
Iran now stands in 14th place in the medals table at the London 2012 Olympic Games.