By Reuters
(Reuters) – Two strong earthquakes struck northwest Iran on Saturday, killing 87 people, injuring hundreds and scaring thousands into fleeing their homes as aftershocks continued to hit the area, Iranian state media said.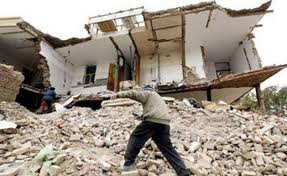 Iran is straddled by several major fault lines and has suffered several devastating earthquakes in recent years, including a 6.6. magnitude quake in 2003 which turned the southeastern historic city of Bam into dust and killed more than 25,000 people.
The U.S. Geological Survey measured Saturday's first quake at 6.4 magnitude and said it struck 60 km (37 miles) northeast of the city of Tabriz at a depth of 9.9 km (6.2 miles). A second quake measuring 6.3 struck 49 km (30 miles) northeast of Tabriz 11 minutes later at a similar depth.
There have been at least 18 aftershocks since then, Iranian media said.
The second quake struck near the town of Varzaghan. "The quake was so intense that people poured into the streets through fear," Fars news agency said of the town.
The head of the crisis centre in Iran's East Azerbaijan province where the quakes struck said 87 people had been killed, Fars said. Some 600 had been injured, the agency added.
Some 210 people in Varzaghan and Ahar have been rescued from under the rubble of collapsed buildings, the official IRNA news agency said, quoting a local official.
Tabriz is a major city and trading hub far from Iran's oil producing areas and known nuclear facilities. Though buildings in the city are substantially built, homes and businesses in Iranian villages are often made of concrete blocks or mud brick that can crumble and collapse in a strong quake.
A local provincial official urged people in the region to stay outdoors during the night for fear of aftershocks, according to IRNA. Lawmaker Abbas Falah said people in the region are in need of bread, tents and drinking water.
The Iran Project is not responsible for the content of quoted articles.