By Guardian
Iran is stepping up efforts to secure the release of 48 pilgrims held in Damascus and accused of being Revolutionary Guards helping Bashar al-Assad's regime to crush the uprising.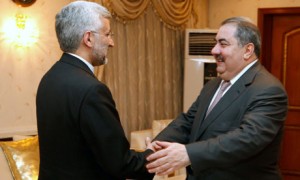 Tehran admitted on Wednesday that some of the group were "retired members" of the elite force but demanded they be released unharmed. It has asked the UN to help and warned the US that it will be held responsible for their fate.
In a diplomatic drive across the Middle East, Iran has urged Turkey, Qatar and Saudi Arabia, which all openly back the anti-Assad rebels, to use their influence to secure the release of the pilgrims, who were abducted on Saturday. Three of them were said to have been killed in government shelling in Damascus on Monday.
"Some of these (Iranians) were retired Revolutionary Guards and military members … and others were from different departments," said Iran's foreign minister, Ali Akbar Salehi, after flying to Ankara to seek Turkish help. But he denied they had military connections and insisted they were in Damascus for a Shia pilgrimage. Ahmet Davutoglu, his Turkish counterpart, pledged to help but there was anger over criticism from Tehran that Ankara was assisting US "warmongering."
In another aspect of the intensifying propaganda war around the Syrian crisis, Russia flatly denied a claim that anti-Assad rebels had assassinated a Russian general advising the Syrian military. A video statement from a group calling itself the Hawks Special Operations Battalion named the general as Vladimir Petrovich Kochyev and showed a copy of an ID document issued by the Syrian military. The same group claimed responsibility for the sensational assassination of four of Assad's most senior security chiefs in Damascus last month.
The Itar-Tass news agency in Russia said a reserve officer called Vladimir Kuzheyev had met journalists at the defence ministry in Moscow to deny that he had been killed. Kuzheyev did not say whether he had served in Syria but declared: "I want to confirm that I am alive and well." The difference betwen the two names could be explained by faulty transliteration from Russian into Arabic.
Russia, a firm supporter of Assad, is estimated to have several hundred military personnel in Syria, including some manning highly sensitive installations – the Mediterranean port of Tartous is an important Russian naval base. Moscow has also used its security council veto three times to block any punitive UN action.
The Free Syrian Army, the main armed opposition group, confirmed that Syria's defecting prime minister Riyad Hijab arrived in Jordan on Wednesday, two days after hiding in a "safe location" near the border inside Syria. Hijab's defection — the most senior yet of a Syrian political figure — was announced on Monday, but amid confusion about his whereabouts, it transpired that he had been waiting to cross safely.
King Abdullah of Jordan meanwhile, suggested that Assad could seek to establish an enclave for his Alawite sect if he cannot retain control of the whole of the country as the crisis deepens. Any such move could prompt decades of further problems for the region, Abdullah told the US broadcaster CBS. "I have a feeling that if he [Assad] can't rule greater Syria then maybe an Alawi enclave is plan B," he said. "That would be, I think for us, the worst case scenario because that means then the break-up of greater Syria, and that means that everybody starts landgrabbing, which makes no sense to me. If Syria then implodes on itself that would create problems that would take us decades to come back from."
The Iran project is not responsible for the content of quoted articles.