By Washington Post
LONDON — Ghasem Gholamreza Rezaei of Iran won the Olympic gold medal Tuesday in 96-kg Greco-Roman wrestling.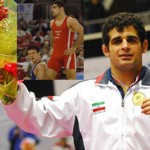 He beat Russia's Rustam Totrov 2-0, 1-0 to become Iran's third Greco-Roman champion in three days.

Rezaei was 16th at the Beijing Games in 2008, but a number of upsets helped clear the way for him and Totrov to meet in the finals.
The Iran Project is not responsible for the content if quoted articles.