By Tengri News
An Iranian woman, jailed by the United States for attempting to export military equipment to Tehran, has been freed and arrived in Oman on Tuesday, AFP reports citing the government announcement in Muscat.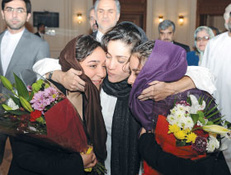 A foreign ministry spokesman thanked the US government for releasing Shahrazad Mir Gholikhan "on humanitarian grounds and following efforts made by Oman", Oman's state news agency Ona said.
"This humanitarian initiative will serve the interests of both countries and stability in the region," the spokesman added.
Surrounded by members of her family, who had travelled to Oman, Gholikhan on arrival at Muscat airport late Tuesday.
She said she was "happy to be free again … and to start a new life", Ona quoted her as saying.
A US State Department official said Gholikhan completed her prison sentence and left the country, noting that during her incarceration Gholikhan had access to both legal counsel and consular officers.
Gholikhan, who was 31 at the time, was convicted in December 2008 and sentenced to five years for attempting to export military equipment to Iran.
US authorities said she was prosecuted for trying to send 3,000 military night vision goggles and other items to her homeland.
She was arrested after a joint investigation by the Immigration and Customs Enforcement authorities and the US Defense Department.
In an earlier mediation between Iran and the United States, Oman received two US hikers in late 2011 after they spent more than two years in Iranian jails for spying and illegal entry. Oman had posted bail for the pair.
A third US hiker, arrested alongside the two by Iran in July 2009 on espionage charges, was freed on bail, also paid by Oman, in September 2010 after 14 months imprisonment.
All three consistently maintained that they innocently strayed into Iran while hiking in Iraq's northern Kurdistan region.
The Iran project is not responsible for the content of quoted articles.